---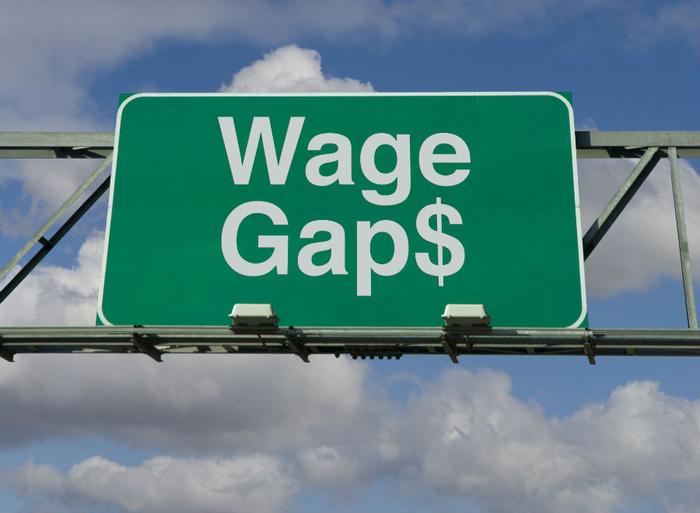 Stories of the abuse that women face in the workforce have dominated headlines in 2017. Even with the #MeToo movement and Merriam-Webster's naming "Feminism" the 2017 Word of the Year, working women continue facing barriers to equal treatment, as a recent analysis of the gender pay gap suggests.
The American Association of Women (AAUW), an advocacy group that studies employment issues that affect women and minorities, recently published a report investigating the best and worst cities for women's pay.
In Los Angeles–the country's second largest metropolitan area–the average woman earns 90 cents on the dollar for every man. That 10 percent pay gap amounts to $4,800 annually, the narrowest gap between men and women for the largest metropolitan areas in the country, according to new research by AAUW. 
But broken down by race, the relatively progressive pay difference of Los Angeles vanishes. Compared to white men, white women in Los Angeles earned just 77 cents on the dollar. Latina women, who make up nearly half of Los Angeles County's female population, make a mere 39 cents on the dollar for every white man.
"Part of what's happening is that white men in Los Angeles are making a lot more money than men overall,"  Kevin Miller, senior research director at AAUW, tells ConsumerAffairs.
Miller analyzed how women's pay stacked up with men overall and specifically white men in 25 major metropolitan areas. He found that Los Angeles has the narrowest gap between overall male and female pay. But Los Angeles looks similar to other cities once face is factored.
Meanwhile, women in Detroit fare the worst of major U.S. metropolitan centers, earning an average of 75 cents on the dollar earned by their male counterparts. But Asian American women in Detroit are out-earning white males by two percent, making them the only demographic the researchers found that actually out-earned white men.
Race and gender pay gaps
Miller's report states that no city is immune from the gender pay gap, even or especially when factoring in race. In addition to gender discrimination, minority women are also vulnerable to racial discrimination in the workforce, a collection of past research has indicated.
But socio-economic factors in Los Angeles and elsewhere also indicate that white women simply have better access to decent-paying jobs.
"White women are substantially more likely than Latinas to go to college and complete a college degree," Miller points out.
State legislators and numerous studies highlight how lack of access to a college degree, bolstered by the ballooning cost of tuition, is a major factor keeping young people of both genders or any ethnicity out of the workforce.   
With numerous structural barriers in place, it may seem intimidating to look for a job. But Miller has some advice for women on the hunt: get out of rural areas. More opportunities remain in the cities, despite salary disparities there.
"The good jobs [in rural areas] that are available tend to be sort of reserved for men still," he says.
Thanks
Keep an eye on your inbox, the lastest consumer news is on it's way!
Unsubscribe easily whenever you want
---