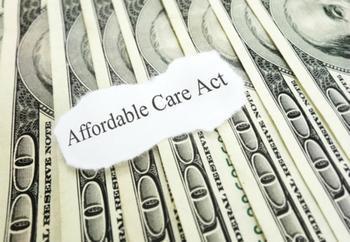 With 177 million Americans receiving health insurance through their employers, dwarfing the estimated 13.8 million who were expected to purchase care through the marketplace, chances are that most employed people assume they are protected from any changes to healthcare laws that the Republican-controlled Congress is currently trying to push through. But that assumption would be incorrect.
Under the Affordable Care Act, a so-called "employer mandate" penalizes employers who do not provide coverage to their employees, a move meant to incentivize large companies to pay for their workers' coverage. Obamacare also requires insurance companies to pay the full cost of certain routine preventative services for people with private or employer insurance, no co-payment required.
"Although most large employer plans were relatively comprehensive and affordable before the ACA, some plans offered only skimpy coverage or had other barriers to accessing care... For that reason, the ACA extended several meaningful protections to employees of large businesses," the peer-reviewed journal HealthAffairs explained in an online post earlier this month. 
Costs would mount under immediate repeal
Senate Republicans on January 12 made their first attempt to gut Obamacare by passing a budget blueprint, or a law that essentially just sets the stage for lawmakers to pass another bill in the future, allowing for the Affordable Care Act's repeal. But the Republicans in the House and Senate did not introduce a replacement in their budget blueprint, leading industry analysts to speculate on how people would be affected by a repeal without replacement.
Amino, a service that allows its users to choose doctors through an online database, recently studied the effects that an Obamacare repeal without a replacement would have on the cost of preventative care services currently covered in full under the law.
In particular, Amino focused on the six preventative services considered "big-ticket" items due to the high cost insurance companies pay for them: the colonoscopy (or colon-cancer screening), the mammogram (breast-cancer screening), the shingles vaccine, tubal ligation (permanent birth control for women), and the intrauterine device or IUD (a temporary birth control device placed in a woman's uterus.)
The median network rate for a colonoscopy screening is a whopping  $1,628, according to Amino's calculations. The prices vary from state to state but nowhere does the procedure fall below $1,000. Breast cancer screenings are not as expensive -- they cost an average of $267 -- while the cost of birth control could become staggeringly high.
The average IUD, including the necessary procedure to put the device in place, costs $1,111, Amino found. And tubal ligation costs an average of $4,000. The shingles vaccine, currently recommended for people over age 60, is priced at $366. "Currently, your insurance company is supposed to pay 100% of the cost," of these procedures, Amino explains, "but if the ACA is repealed, this cost could be passed on to you."
State of health reform is uncertain
President Donald Trump promised during his campaign that he would not gut Obamacare without introducing a replacement and other potential reforms. But on Friday, he signed an executive order vaguely directing Health and Human Services to "waive, defer, grant exemptions from, or delay the implementation of any provision or requirement of the Act that would impose a fiscal burden on any State or a cost, fee, tax, penalty, or regulatory burden on individuals, families, healthcare providers, health insurers, patients, recipients of healthcare services, purchasers of health insurance, or makers of medical devices, products, or medications."
What does this mean? People aren't sure. Republican Senator Susan Collins (Maine) said the order is "very confusing" in an interview with Reuters. "We really don't know yet what the impact (of the order) will be," she added.