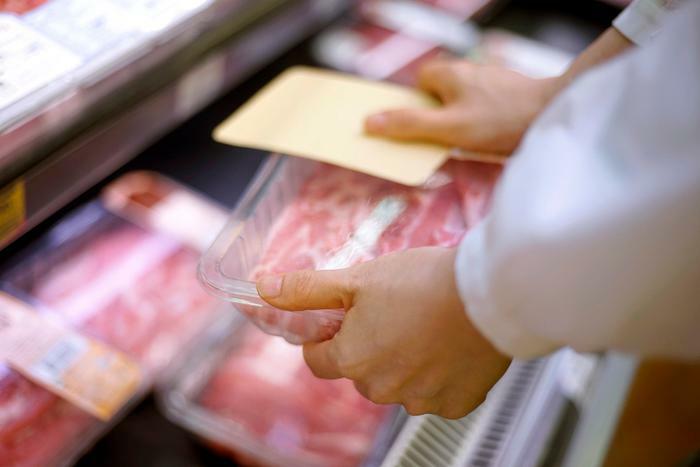 As we approach the November and December holidays, a report from Foodmarket says that retailers are encouraged that consumer demand for meat and poultry products will remain strong. On the flip side, labor shortages continue and supplies are forecast to tighten, which could lead to higher prices.
Hog heaven
Autumn is typically a strong season for hog producers. With October being National Pork Month, there'll likely be special price promotions for consumers, and pork could become an attractive option over beef and chicken. In fact, pork prices have already declined from their summer peak -- by a whopping 21%.
"Notably, the average retail price for whole boneless pork loin this week is at a sizable discount to boneless skinless chicken breast, a competitive item with pork loins," the report noted. "Pork loins this week average $2.70 per pound, compared to $3.58 per pound for chicken breast. The roast category averages $2.76 per pound, 9.2% below last year. Meanwhile, ribs, bacon, and pork chops continue to hold sizable premiums to year-ago levels." 
How now, brown cow?
Across the field in the beef sector, cattle supplies are forecast to tighten in the coming months. While labor and supply shortages in the chicken market have made most of the headlines, beef producers have also felt a pinch from the pandemic. "Processing capacity is plagued with staffing shortages, mechanical issues, and recently — a plant fire at a JBS facility in Nebraska, making it increasingly difficult for feedlots to become current. While fed cattle prices continue to trek largely sideways, wholesale beef prices are softening post-Labor Day but remain elevated in record territory for this time of year," the report said.
According to the latest Urner Barry survey, Choice beef carcass value was up 50% and Select was 41% higher over this time last year. The offshoot of that is that average retail prices for ground beef, roasts, and steaks were also up from a year ago.
And chicken?
The bird is still the word when it comes to the consumer's pandemic-oriented meat of choice, and that factor alone has created a shortage — and a rise in prices — for chicken.
Urner Barry's latest retail survey shows that retail prices for whole birds are up 8.7% from a year ago and average $1.87 per pound. Boneless skinless breasts are up 15.5% from 2020. If you're a wing lover, be prepared to pay. Currently, the average for wings is $4.24 per pound, up a whopping 78.2% from last year. 
Will the shortage of available chicken meat get worse? It's hard to say, but the current picture is pretty bleak. According to Foodmarket's review of Department of Agriculture data, the agency reports that the availability of frozen chicken stocks at the end of August was down nearly 20% from 2020. "Total chicken stocks were the lowest since 2014 and breast meat lowest since 2016. Wing stocks lowest since 2009 with a small August gain. No wonder since prices are near record high," Bob Brown, a private analyst in Edmond, Oklahoma, told Foodmarket.