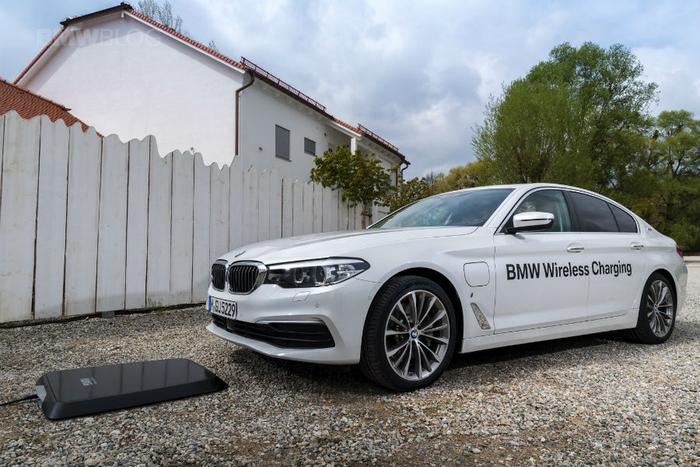 BMW's wireless inductive charging pad will go into production in July and be available to U.S. consumers -- in addition to being released in Europe -- by the end of the summer, Autoblog has confirmed.
The wireless charging system will work with many of BMW's plug-in hybrid electric vehicles, starting with the 5-series 530e iPerformance. Drivers in California will be able to use the system via a pilot program by the end of the summer.
"It will be a pilot program limited to the 530e in California only," BMW said. It's unclear when or if the company plans to make the technology more widely available, which cars will get it, and how much it will cost.
However, the deployment of the technology represents a significant step. BMW has been working on wireless car charging for several years. The German automaker first unveiled its plans for the system in 2014 as part of a joint effort with Daimler. A version of the technology for the Mercedes S560e sedan is expected to be revealed later this year.
How it works
BMW's floor mat measures about 35 inches long and 31.5 inches wide and 0.8 inches thick. The mat sits on the floor and must be plugged into a 220-volt outlet. Inside the mat is a primary coil that transmits power to a secondary coil located in the underside of the vehicle.
"An alternating magnetic field is generated between the two coils, through which electricity is transmitted without cables or contacts at a charge rate of up to 3.2kW," BMW explains. "This form of power supply to the high-voltage battery is extremely convenient for customers and involves a charging time of around 3.5 hours."
The 3.5 hours it takes to fully charge the 530e's 9.2kW battery is about 30 minutes longer than using a charging cable.
To use the charging system, the driver uses the infotainment screen to position the vehicle over the charging pad. Once the vehicle is properly aligned, charging starts automatically as soon as the driver turns off the ignition.
The mat can work inside or outside and has the ability to automatically turn off if it detects another object is in the way, such as cat or other animal sitting on the pad.
Right now, at least eight other automakers are working on similar wireless charging systems. A 2014 survey found that the market is expected to buy more than 350,000 inductive units by 2020.