---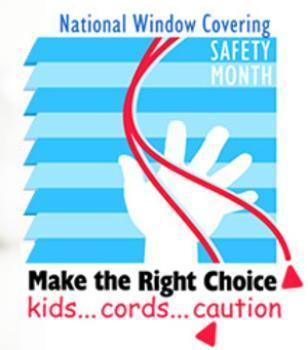 Last week, the Window Covering Manufacturers Association (WCMA) announced that it was launching the "Best For Kids" program, a third-party certification process "designed to help consumers and retailers identify window covering products that are certified as best suited for use in homes with young children."
Although window coverings seem innocuous to anyone with adult sensibilities, some types can indeed be fatal to small children – especially window blinds with long cords. Last year, during the 22-day period spanning February 8 through March 1, four children in America died after they accidentally strangled themselves on window-covering cords.
The WCMA's "Best For Kids" certification program is intended to address this problem. In order to win that certification, the WCMA says, "a window covering product must either have no cords or the inner cords cannot be accessible, as defined by the industry's safety standard.... If accessible inner cords are present in products with no operating cords, the accessible inner cords cannot create a hazardous loop in accordance with [certain] test procedures."
Not far enough
But critics say this doesn't go far enough. Today, the Consumer Federation of America responded to and criticized the "Best for Kids" program on the grounds that it would still allow dangerous corded window coverings to be bought and sold:
Unfortunately, while this program provides assurances that cordless products are available to consumers, it fails to effectively address hazards posed by all corded window coverings and require that all window covering products be safe.  Under this program, WCMA member companies will still be selling window coverings that pose unreasonable and unacceptable risks to children. … The clear solution is to ensure that only cordless products, or products with cords made inaccessible by a passive guarding device, are available for sale. 
Meanwhile, you can take steps to ensure your own home's window-coverings are safe. If you have small children. or if you entertain visitors with small children in tow, do an inventory: do your window-coverings have any long ropes or cords, anything from velvet ties holding back long curtains to miniblind pull-strings with plastic aglets on the ends? That's the part most likely to be hazardous to young children.
If you cannot afford to replace your current window coverings with "cordless" varieties, at least make sure the ends of any rope-ties or pull-cords are up high, out of reach of any young child. For example: if the ends of your miniblind pull-strings dangle low enough for small kids to reach, try driving a small nail or decorative hook high into the wall next to the window, and keep the cords looped around that.
---