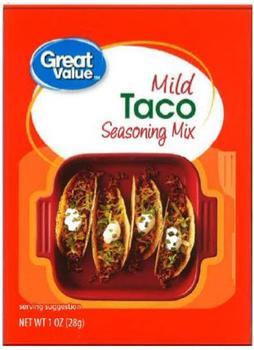 Williams Foods is recalling the following two varieties of taco seasonings:
Item number

Product

Name

Package Size
Product UPC

Product

dates

56482

9444

Great Value

Mild Taco

Seasoning Mix

1 oz
0 78742 24572 0

Best if

used by

07/08/21
Best if

used by 07/09/21

050215

HEB Taco

Seasoning

Mix Reduced Sodium

1.25 oz
0 41220 79609 0
Better by 07/10/21
Better by 07/11/21
Better by 07/15/21
The products may be contaminated with Salmonella
There are no consumer complaints or reported illnesses to date.
The recalled products, with "Best By" date information on the top part of the back side of the package, was sold in retail grocery stores in Washington, D.C., Alabama, Arkansas, Arizona, California, Colorado, Delaware, Florida, Georgia, Hawaii, Idaho, Iowa, Illinois, Indiana, Kansas, Kentucky, Louisiana, Maryland, Michigan, Minnesota, Missouri, Mississippi, Montana, North Carolina, North Dakota, Nebraska, New Jersey, New Mexico, Nevada, New York, Oklahoma, Ohio, Oregon, Pennsylvania, South Carolina, South Dakota, Tennessee, Texas, Utah, Virginia, Wisconsin, West Virginia and Wyoming.
What to do
Customers who purchased the recalled products should not consume them, but discard or return them to the place of purchase for a full refund.
Consumers with questions may contact the firm's customer service center at (800) 847-5608 from 8am – 5pm (CST) Monday – Friday or by e-mail at customerservice@chg.com for more information.