---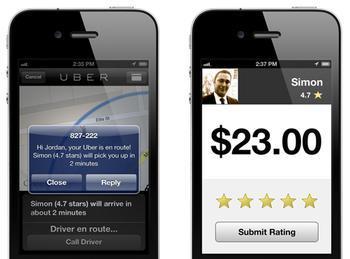 Though the ride-sharing service Uber has been controversial almost since its start, most of the previous controversies centered on reasons which ultimately were downright flattering to Uber: stodgy old-school hyper-regulated taxi cartels felt threatened by the innovative 21st-century business model harnessing bold new communications technologies to yadda yadda generate controversy.
But the latest Uber-centric controversy is considerably less flattering to the company. Last week, BuzzFeed reported that company executive Emil Michael floated the idea of dealing with any criticism of his company by digging up dirt on journalists who dared to criticize it:
Sarah Lacy, the editor of the Silicon Valley website PandoDaily .... recently accused Uber of "sexism and misogyny." She wrote that she was deleting her Uber app after BuzzFeed News reported that Uber appeared to be working with a French escort service. ...

At the dinner, Michael expressed outrage at Lacy's column and said that women are far more likely to get assaulted by taxi drivers than Uber drivers. He said that he thought Lacy should be held "personally responsible" for any woman who followed her lead in deleting Uber and was then sexually assaulted.

Then he returned to the opposition research plan. Uber's dirt-diggers, Michael said, could expose Lacy. They could, in particular, prove a particular and very specific claim about her personal life.

Michael at no point suggested that Uber has actually hired opposition researchers, or that it plans to. He cast it as something that would make sense, that the company would be justified in doing.
They know where you go
Such an attitude arguably sounds bad when expressed by anyone, but are especially damaging coming from the executive of a tech company like Uber which, by its very nature, has access to lots of information of the sort its customers might prefer to keep private — in Uber's case, the company's very business model ensures that it knows where its customers live, what sorts of places they travel to, and when. (Indeed, with such information, you could prove lots of particular and specific claims about various people's personal lives, no?)
BuzzFeed reported this on Nov. 17. The next day, it reported that an Uber executive had used a program called "God View" to track a journalist's location and movements. Not that "God View" itself was breaking news by then; in early October, Forbes magazine reported that Uber used "God View" as a form of entertainment at company launch parties, letting staffers watch real-time views of who was using Uber at that moment, and where they were going.
Perhaps coincidentally, Uber updated its blog on Nov. 20 later to trumpet its new "privacy practices" which boil down to – nothing specific, though they sound good:
Our business depends on the trust of the millions of riders and drivers who use Uber. The trip history of our riders is important information and we understand that we must treat it carefully and with respect, protecting it from unauthorized access.

Ensuring that we have strong policies and practices in this fast-paced world of technology must be a constant quest. We have engaged Harriet Pearson, one of the most respected data privacy experts in the world and her colleagues at Hogan Lovells, to work with Uber's privacy team. Hogan Lovells will conduct an in-depth review and assessment of our existing data privacy program and recommend any needed enhancements so that Uber can ensure that we are a leader in the area of privacy and data protection.

We've learned a lot in four and a half years and want to continue to improve on the innovative tools that help us deliver on our mission of providing safe, reliable, affordable transportation to anyone, anywhere, at any time.
That's Uber's new privacy-practices statement, in its entirety. However, critics might suggest that "unauthorized" access to Uber's customer data – say, hackers breaking into databases – is arguably less of a concern than what Uber's own executives might authorize.
---