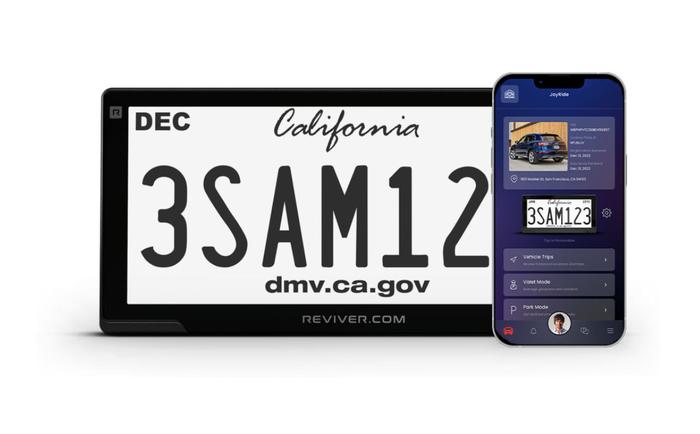 After an initial trial period, California lawmakers have expanded the use of digital license plates, allowing them on all cars and trucks in the state. They've been allowed on a small number of private vehicles for the last four years.
Digital plates take the place of the metal license plates that have been in use for over 100 years. Transportation officials say they hold some advantages for both consumers and law enforcement.
Reviver, the company that sells the devices, says digital plates are customizable, and trackable, and make renewing the license an easier process.
They can help law enforcement because they can be controlled remotely. According to the company, the plates can be quickly updated for Amber Alerts and can even be programmed to change the numbers to read "I'm stolen."
Three other states allow them
Michigan and Arizona also allow digital plates on private vehicles and Texas recently approved their use on commercial trucks. With the California legislature's approval, use of the digital plates could expand from the initial 750,000 cars and trucks to 40 million.
Reviver believes the technology could quickly spread to other states, including 10 states that are currently studying their use.
"Californians are known to be early adopters of emerging innovative technologies," said Neville Boston, Reviver's co-founder and chief strategy officer. "We welcome new opportunities to automate and integrate as many parts of our lives as possible, enabling us to streamline mundane tasks and stay connected. Our cars are no exception." 
Subscription fee
The digital plate for private vehicles is known as the RPlate. It offers two device options enabling vehicle owners to connect their vehicle with a suite of services including in-app registration renewal, visual personalization, vehicle location services, and security features such as easily reporting a vehicle as stolen. 
The RPlate battery-powered version, which is available to all consumers, is a self-installed model with a replaceable five-year battery available at $19.95/month. The RPlate hard-wired version is currently only offered to commercial businesses and features a hard-wired, professionally installed model with integrated telematics features and a backlit display, at $24.95/month. 
Both versions have a monochromatic HD display that can display your customized license plate if your registration is up to date or an "invalid" sign if out of date, making it easier for police to spot out-of-date registrations.