---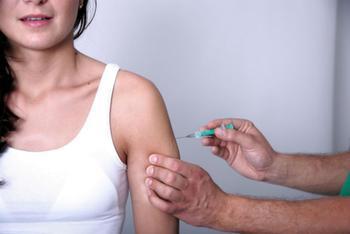 Pregnancy is a privilege, and many women treat it as such. From eating vegetables and staying hydrated to avoiding hot tubs and Hibiscus Tea, expectant mothers often go to great lengths to ensure the health of their growing baby.
In addition to keeping up with the pregnancy do's, moms-to-be also have to deal with concerns that may arise prior to getting something as routine as, say, a flu shot.
So, should pregnant women get a flu shot or skip it until the bun has left the oven? It's a question women may grapple with, but experts say pregnant women should get the flu shot -- not only for their health, but for the health of their child.
Protects babies after birth
There's no harm in hiking up your sleeve and getting a flu shot, according to the latest research. The flu shot can reduce the risk of an expectant mother getting influenza. Additionally, it can help ward off flu-related complications such as preterm labor or pneumonia.
Having a flu shot in your system can also keep your baby from coming down with the flu for up to six months after birth. Why the prolonged effect? It has to do with the antibodies manufactured by mom and passed to the baby through the placenta.  
"It gives the baby some protection against the virus until he or she can get the vaccine directly, at 6 months old," Ashley Roman, MD, clinical assistant professor in the department of obstetrics and gynecology at NYU Langone Medical Center told Health.com.
Roman adds that moms shouldn't hesitate to get a flu shot because it contains a dead (or "inactivated") virus rather than a live virus, which may harm an unborn child. 
Avoid FluMist
The CDC echoes Roman's assertion that the flu shot is perfectly safe for moms-to-be, but adds that pregnant women should avoid the flu mist. 
Unlike the shot, the FluMist nasal spray is made from live viruses which may be unsafe for a growing baby. If you will be pregnant during flu season (November through March), the best time to get a flu shot is October or November.
In addition to the flu shot, Roman recommends pregnant women (as well as caregivers who will be spending time with the baby) get a Tdap vaccine to prevent against tetanus, diphtheria, and pertussis. 
---