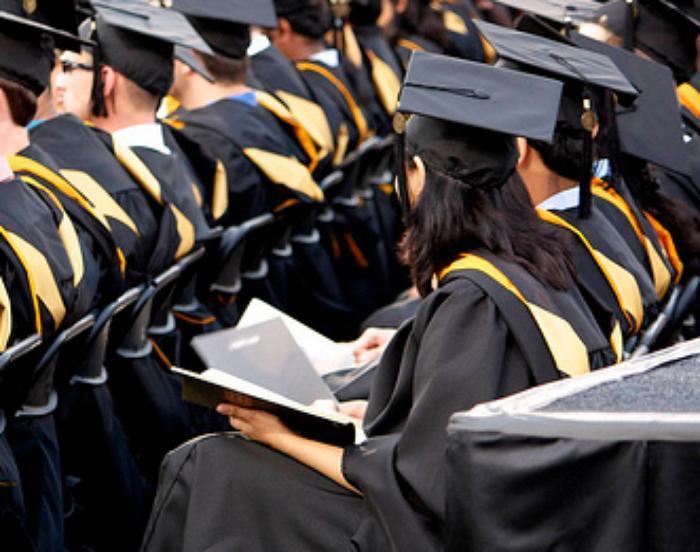 It won't be long before college students will be lining up by the thousands to receive their diplomas -- and then start the search for gainful employment.
As these three million young adults with freshly-minted associate or bachelor's degrees enter what's called "the real world," they should be in pretty good shape as far as job prospects go.
According to outplacement consultancy firm Challenger, Gray & Christmas, the employment outlook for the class of 2017 is on par with last year, thanks to the current economic growth. National Association of Colleges and Employers College Graduates' 2017 Job Outlook finds that just over 98% of employers plan to hire bachelor's-degree earners this year, virtually the same as in 2016.
Hot degrees
Business degrees are most in demand, with the survey showing almost 78% of employers planning to hire business-degree holders, while 70% want those with engineering degrees. Another 54.2% will hire grads in the computer and information sciences field.
The most in-demand degrees are in male-dominated programs, even though women continue to earn more college degrees than men year-over-year.
An analysis of 2012 education data from the National Center for Education Statistics by Randall Olson, shows fewer than 20% of bachelor's degree-holders in computer and engineering fields were women, while just over 40% of bachelor's in business went to women.
"Companies benefit from having a diverse workforce, and many employers want a gender-equal workforce," said Challenger CEO John A. Challenger. Encouraging women to enter and thrive in these fields will have an enormous, positive impact on the workplace."
It's not just recent college graduates who benefit from bachelor's degrees. Older grads face much lower levels of unemployment when compared to those who did not finish high school, only finished high school, or only finished part of college.