---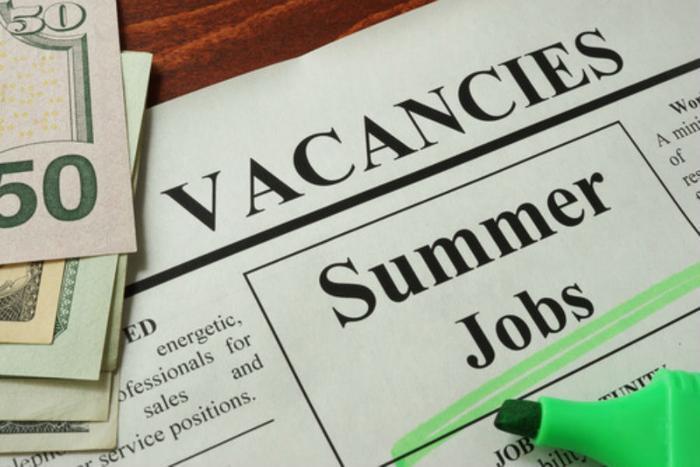 Things have been looking pretty solid in the job market recently. Job openings have been on the rise and unemployment was down to 4.3% in May, the lowest it's been in 16 years. Some might think that these statistics would create a perfect situation for entrepreneurial teens looking to make some cash this summer, but a Bloomberg report suggests that many young people won't be entering the workforce.
The finding isn't exactly groundbreaking if you look at summer job trends over the last few decades. Since the late 1980s, 16-to-19-year-olds have been participating less and less in the labor force during the summer months, dropping from nearly 70% at its peak in 1988 and 1989 to 43% last year.
But what's behind this turnaround? An analysis by the Bureau of Labor Statistics (BLS) shows that many teens are taking the time to further their educational goals.
"Teen labor force participation has been on a long-term downward trend, and the decline is expected to continue to 2024," the researchers write. "A number of factors are contributing to this trend: an increased emphasis toward school and attending college among teens, reflected in higher enrollment; more summer school attendance; and more strenuous coursework."
Increased academic focus
The researchers say that changing economic factors and an increased emphasis on schoolwork are the driving forces behind the declines in teen employment. During the school year, many young people are too overloaded with schoolwork to take up a part-time job, and students who want to take courses over the summer to get ahead, participate in extracurricular activities to improve their college resume, or must attend summer school for failing a class also don't have much opportunity to put in work hours.
Data collected by BLS reinforces this point. The researchers say that 40% of teens aged 16-19 were enrolled in school during the summer last year, more than four times the number of teens of the same age in 1985. Part of the reason might lie in the U.S.' increasing education standards.
In 1982, less than 10% of high school graduates had completed four years of English classes, three years of math, science, and social science classes, and two years of foreign language classes. That number jumped to 62% by 2009, the most recent year for which data was collected.
The difficulty of classes is also increasing, according to the researchers. Since the 1980s, the number of students taking Calculus classes has more than tripled, and nearly one million students graduated in 2009 after taking an advanced placement (AP) course – up 39% from just four years previous.
Building experience
While the academic benefits behind these changes are unquestioned, some may question whether abandoning employment opportunities is really a good thing for young people.
Although the money earned while working a summer job will likely fall far short of paying for increasingly expensive college tuitions, experts point out that working part-time has been shown to increase teens' ability to manage social conflicts and helps build real-world and job experience.
Thanks
Keep an eye on your inbox, the lastest consumer news is on it's way!
Unsubscribe easily whenever you want
---