---
Cars and trucks are getting better. Automakers have invested mightily in improving vehicle quality, so that most new cars on the road today are very reliable. With minimal maintenance, they are practically trouble-free.
So it might come as a surprise that AAA reports it answered a record 32 million roadside assistance calls last year.
A closer examination of the data, however, reveals the distress calls were not always related to vehicle performance. Instead, AAA says it addressed more battery, tire, and key-related issues than ever before.
More problems with newer cars
Oddly, cars and trucks fewer than five years old seemed to have a higher proportion of tire and key-related issues than older vehicles. The takeaway, says AAA, is that the recent trend of eliminating the spare tire and moving to electronic keyless ignitions may have unintended consequences.
"Vehicles today are advanced more than ever, yet are still vulnerable to breakdowns," said Cliff Ruud, AAA's managing director of Automotive Solutions.
He said the new tires, with sleek, low profiles, are highly vulnerable to damage. The problem with electronic keyless ignitions, he says, is they can drain battery life.
Out of gas
Even with warning lights and alarms, he says a half million motorists ran out of gas last year.
AAA cautions that owners of newer cars may be vulnerable in the event of a flat tire. To reduce weight, automakers have begun to eliminate spare tires and replace them with tire inflator kits. But Ruud says these kits won't fix all flats.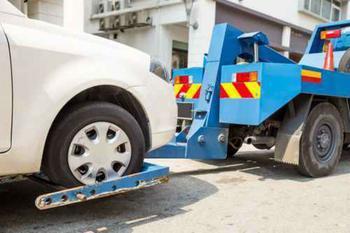 AAA says it has also documented cases where keyless ignition systems have drained batteries or resulted in the driver locking himself out of the vehicle while the engine is running.
When AAA is summoned to assist the driver of an older car, many times it's the case of a dead battery. Often times the motorist has never replaced the battery, driving it beyond its normal three-to-five-year lifespan.
So despite all the high-tech improvements in cars in recent years, AAA recommends drivers check to make sure they have a spare tire, take extra care of smart keys and key fobs, and keep up with the age of the car's battery. After three years, the battery should get regular testing and be replaced if it is still being used long after its lifespan.
---