---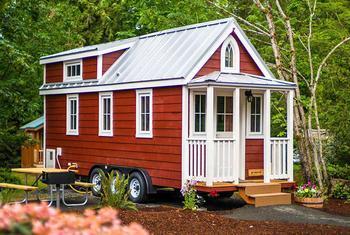 A growing number of consumers who are convinced "small is beautiful" are embracing the "tiny house" movement.
With home prices rising and inventories falling, the appeal of a small, inexpensive dwelling might seem compelling. As we reported back in 2014, these homes of 200 to 800 square feet can often be built quite inexpensively.
But since then, designs have gotten more efficient -- and even exotic -- and the price range has soared higher. These days they can cost around $80,000 -- still cheaper than a single family home and most condos.
People who buy tiny houses often have other reasons for doing so, but the editors at real estate marketplace Trulia caution that the financial part should not be overlooked, and they argue that a tiny house is not a good investment.
'Wildly impractical'
Blake Miller, writing on the Trulia Blog, calls a tiny house "wildly impractical" as a financial investment. If it turns out to be a fad, he says there will be fewer would-be buyers when you get ready to sell.
He also points to supply and demand. At home shows tiny houses get all the attention because they're cool. More builders have started offering products with ever-increasing design efficiencies. But Miller argues there are a lot more tiny homes out there than there are serious buyers.
He maintains the buildings are just too small and eventually, the homeowner will want to have more space. Therefore, he concludes they just aren't a wise investment.
Lifestyle choice
It should be noted that there are plenty of people who take the other side of that argument, and most will point out people don't buy tiny houses to flip them in a couple of years. They buy them because it represents a lifestyle choice.
There are plenty of tiny house blogs, including Tiny House, Giant Journey (THGJ), extolling the virtues of living small. THGJ even maintains that building a tiny house is not expensive, compared to a standard single-family home.
Tiny houses actually have deep American roots. Pioneers who trekked into the wilderness to start new lives had no choice but to build tiny houses, at least to start. Those first frontier homes were usually one-room structures, made from the materials at hand.
Over the centuries houses have gotten much bigger. Today, the average square footage of a U.S. residence is just under 2,500 square feet.
---