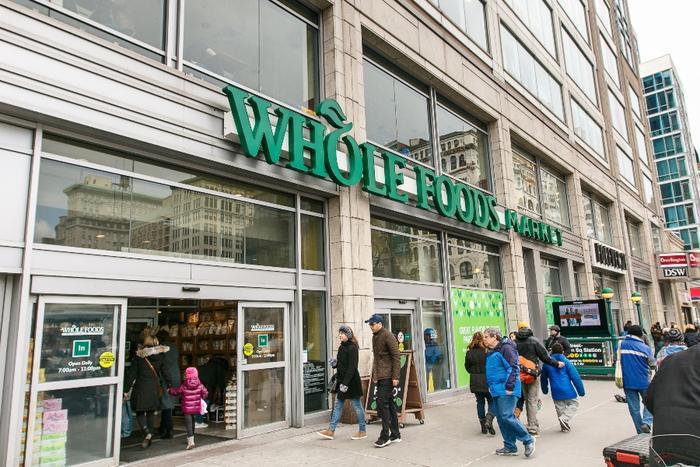 If you need another face mask, you might try shopping at your local Whole Foods Market store. Parent company Amazon says all stores will provide free masks to customers and ask them to wear them while shopping.
Amazon said it acquired over 100 million masks that were distributed through its global Amazon operations and Whole Foods Market stores. The masks are expected to begin arriving at stores over the next seven days.
"We have enough mask inventory to cover our entire operations and stores network, and we are requiring everyone working in our facilities to take and use them," the company said in a blog post.
The next step is distribution of masks to customers, who will be able to pick up one at the entrance to the stores. The announcement follows a move by Costco to require all shoppers to wear a mask, starting Monday. However, Costco shoppers must provide their own face covering.
Amazon said it expects to invest more than $800 million in the first half of this year on safety measures to protect employees and customers from the coronavirus. In addition to masks, the company says it has purchased large quantities of hand sanitizers, thermal cameras, thermometers, sanitizing wipes, gloves, and additional handwashing stations.
Amazon says it is also applying disinfectant sprays in buildings while stocking up on testing supplies and deploying more janitorial teams. Total spending in this area during the second quarter is projected to be around $4 billion, the company said.
Rising demand for curbside pickup
Whole Foods Market stores have also had to respond to a surge in online ordering with curbside pickup from consumers who prefer not to go inside stores. Since the virus began its spread across the U.S., Whole Foods has nearly doubled the number of stores offering pickup, from 80 to more than 150.
There's also been a big increase in demand for home delivery. Since March 16, the company says it has hired more than 175,000 people, with many designated for grocery delivery to help meet increased demand. 
"We are also investing nearly $700 million to support employees and partners during the crisis. Ramping hiring enables us to more quickly receive, restock, and deliver products to customers and continue increasing delivery window availability," the company said.