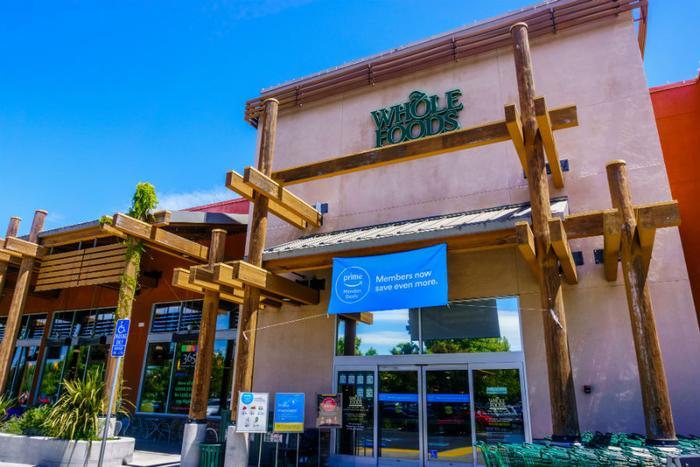 In the two years since Amazon acquired Whole Foods, the average cost of groceries for Prime members who shop at chain has dropped a mere ten dollars, according to a study released Wednesday by Gordon Haskett Research Advisors. 
After purchasing Whole Foods in 2017 for $13.7 billion, Amazon set out to help the notoriously pricey grocery chain shake off its "whole paycheck" image. However, a new analysis finds that price cuts for Prime members have been limited in scope and haven't led to a significant drop in the total cost of customers' groceries.
Most of Amazon's price cuts have been found in the produce and dairy categories. Meanwhile, "other items have largely stayed the same or, in the case of bread and snacks, even increased," Bloomberg noted. 
'More bark than bite'
The Gordon Haskett study found that 106 commonly purchased items at Whole Foods cost $404.08 prior to the Amazon acquisition. Now, the total cost for the same assortment of items is $394.10 for Prime members. 
A study conducted last year by Gordon Haskett also concluded that Amazon hasn't unveiled widespread or significant decreases in prices at Whole Foods.
"While deeper promotional pricing on key items, incremental savings… and increased convenience for Prime Members in the first year under Amazon ownership have caught our eye as consumers, the reality is that Whole Foods pricing on a broad basket has remained largely unchanged," the firm said of its 2018 analysis.
The latest study found that Whole Foods shoppers who aren't Prime members now pay an average of $8 less than they would have before Amazon purchased the retailer. Gordon Haskett analyst Charles Grom concludes that his team's annual checks suggest that, in terms of price actions, "Amazon's bark may be greater than its bite."