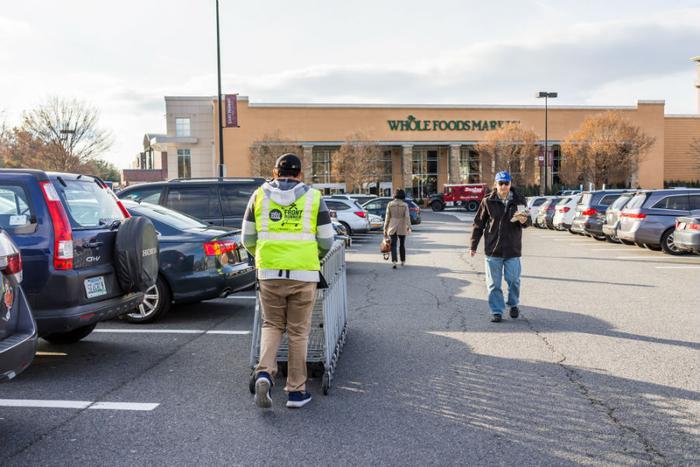 Whole Foods CEO John Mackey says "wage transparency" is a key practice at Whole Foods. In an interview with CNBC Make It, Mackey said making sure employees know exactly what their colleagues are getting paid serves as motivation to climb the corporate ladder.
He said many companies "believe that [wage transparency] is going to stoke envy" and try to keep it hidden. Mackey said he thinks about it differently. 
The executive said an employee might think, "'Wow, I had no idea that a coordinator could get paid that much. I want to be a coordinator.' Or, 'I really want to be a store team leader, because I had no idea that including their RSUs — the restricted stock units they get from Amazon — I mean, they may be making well over $100,000.'" 
"And if you don't have a college degree, that's something to aspire to," he added.
What store employees make
Here's how much other Whole Foods employees make, according to the store's website. 
Team members. Employees who work on the store floor, completing tasks like stocking shelves or preparing food, make an average of $30,000. 

Team leaders. Employees who head up a given section of the store and train new employees,  among other tasks, make around $57,000 per year. 

Associate team leaders. Assistants to team leaders make an average of $43,000 at Whole Foods.

Store managers. Store leaders make an average of $99,000 per year.

Associate store team leaders. Assistants to store managers make an average of $73,000 per year. 
Promoting authenticity
Mackey told Freakonomics Radio host Stephen Dubner that wage transparency incentivizes employees to do what it takes to get to the next level and offers the opportunity to challenge wages that they feel aren't correct. 
Complaints sometimes result in a change; other times, the company gets a chance to highlight its values and explain why the pay is correct. 
"When you reveal a pay structure very transparently ... sometimes things aren't just. And people will complain about it. And that gives you an opportunity to correct it," Mackey said. "At other times, though, [the pay] is correct, and you can defend it. And then you're pointing out to people what the organization most values and rewards."