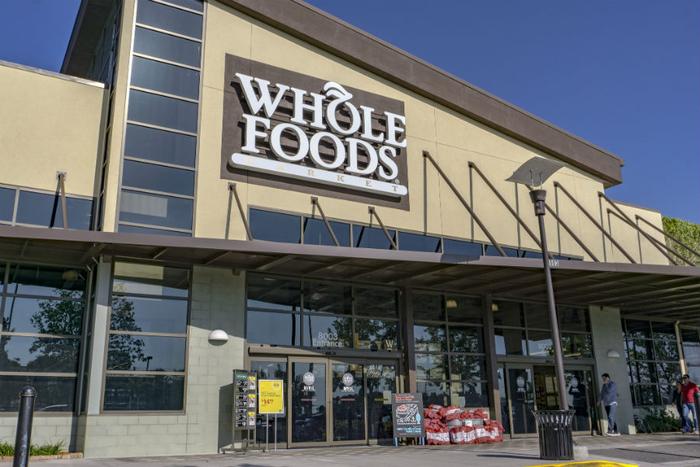 Starting June 27th, Amazon Prime members will receive 10 percent off certain sale items, as well as other discounts, at Whole Foods stores across the country.
Customers have two ways to activate the new Amazon Prime-related discounts. One way is to get the Whole Foods app, sign in with your Amazon Prime account, and then scan the app's Prime code at checkout at a Whole Foods store. Another option is to enter your mobile phone number at checkout to verify your Prime membership.
When the rollout is complete on June 27th, yellow stickers will indicate items that are 10 percent off, and blue stickers will show additional deals just for Prime members. Some items customers can expect to see discounted right off the bat include:
Baby back pork ribs, $4.99/pound (regularly $9.99/pound)

Sockeye salmon, $13.99/pound (regularly $19.99/pound)

Organic yellow peaches, $1.99/pound (regularly $3.99/pound)

Mochi ice-cream, including chocolate, salted caramel, and green tea flavors, five for $5

32-ounce organic Honest Lemonade, two for $3
"Customer feedback has been overwhelmingly positive -- in fact, Prime members have adopted this benefit at one of the fastest rates we've seen," said Cem Sibay, Amazon's Vice President. "Since starting this rollout in mid-May, Prime members have already saved millions of dollars."
Benefits of Prime Membership
Since acquiring Whole Foods last June, Amazon has made its presence in the grocery chain known to the public.
Discounts at Whole Foods for Prime Members started out in Florida in early May. By month's end, Amazon extended the offers to 12 more states. Just last month, Amazon announced another 10 states were being added to the mix, and the rest of the country was not far behind.
"We're excited that Prime savings will be available at nearly half of our Whole Foods Market stores, giving more Prime members access to great deals just in time for summer," said A.C. Gallo, President and CEO of Whole Foods, last month.
Amazon Prime members receive other perks when shopping at Whole Foods, like free two-day grocery delivery on orders over $35 and access to Amazon products like the Echo and Kindle in Whole Foods stores.
Additionally, members who choose to have their groceries delivered still see the same storewide discounts at checkout. In certain markets, Prime members can get their Whole Foods groceries delivered for free in just two hours. Members with the Amazon Prime Rewards Visa also receive five percent back when shopping at Whole Foods stores.