---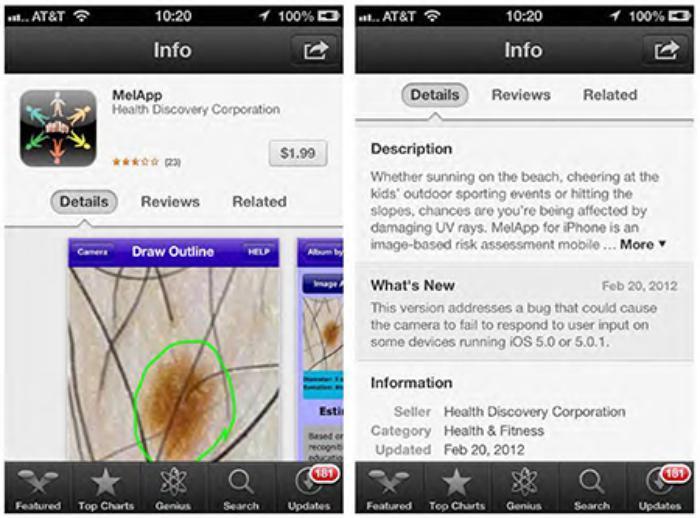 When it comes to diseases, melanoma -- or skin cancer -- is about as bad as it gets. It's the most common cancer in the United States and has a high mortality rate, partly because it often goes undetected until it is in its later stages.
While consumers can and should examine their skin regularly for suspicious growths, regular check-ups by a doctor, ideally a dermatologist, are essential.
Or we can just entrust our lives to a mobile phone app, accordiing to the promoters of MelApp and Mole Detective, which claim they can detect skin cancer in its early stages.
The Federal Trade Commission doesn't think so.
It has challenged the claims and is pursuing charges against two marketers of Mole Detective who did not agree to settle. Another promoter has agreed to stop making unsubstantiated claims.
Deceptive claims
According to the FTC's complaints, each of the apps instructed users to photograph a mole with a smartphone camera and input other information about the mole. The apps then purported to calculate the mole's melanoma risk as low, medium, or high.
The FTC alleged that the marketers deceptively claimed the apps accurately analyzed melanoma risk and could assess such risk in early stages. The marketers lacked adequate evidence to support such claims, the FTC charged.
"Truth in advertising laws apply in the mobile marketplace," said Jessica Rich, Director of the FTC's Bureau of Consumer Protection. "App developers and marketers must have scientific evidence to support any health or disease claims that they make for their apps."
Mole Detective Kristi Kimball and her company, New Consumer Solutions LLC, developed and first marketed Mole Detective in January 2012. U.K.-based Avrom "Avi" Lasarow and his company, L Health Ltd., took over marketing the app in August 2012. The marketers advertised the app primarily online, where it has sold in the Apple and Google app stores for as much as $4.99.
The settlement with Kimball and her company prohibits them from claiming that a device, such as an app, can detect or diagnose melanoma, unless the representation is truthful, not misleading, and supported by competent and reliable scientific evidence in the form of human clinical testing of the device. The agency will pursue a litigated judgment against non-settling defendants Lasarow and his company.
MelApp Settlement Health Discovery Corporation began marketing MelApp online in 2011 for $1.99. The proposed settlement will bar the company from claiming that any device detects or diagnoses melanoma or its risk factors, or increases users' chances of early detection, unless the representation is not misleading and supported by competent and reliable scientific evidence in the form of human clinical testing of the device.
---