---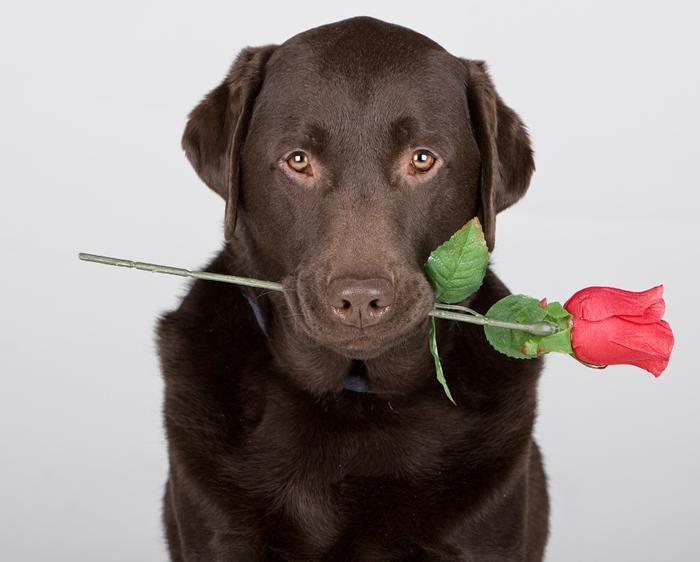 Who do you love more -- me or the dog? That might not be a question you want to ask your significant other if you aren't ready to handle the truth.
Pet-sitting service DogVacay surveyed its community to learn more about who wins our affection most: our significant others or our pets. Oh my, guess who wins? Four on the floor paws down.
More than 3,000 responses later, here are the surprising results DogVacay uncovered:
Party Pooper: A whopping 85% of people would rather spend a Friday night in with their pets than out at a party.
Sleeping On the Couch: Over 75% of people would rather snuggle with their pets than their significant other.
Presents for Puppies: Approximately 83% get their pets gifts for the holidays.
This news comes on the heels of the National Retail Federation revealing that Americans plan to spend $700 million on their pets this year for Valentine's Day alone. It certainly is good to be a dog this Valentine's Day!
Pooch pamperers
So in the tradition of love we found some gifts you might want to get for your pampered pooch for Valentine's Day.
You have seen cake pops at all the upscale bakeries. Now there are cake bites for pups -- $39.99 BUT they last a year. Can't say that for cake pops.
Theyr'e made from a pumpkin cake ball and you get eight treats in a beautiful box.
I know this is like the Neiman Marcus Christmas catalog but how about a collar that even the Gabor sisters would want to wear. The Amour de la Mer necklace with an "8.5-carat sapphire pendant as blue as the ocean" goes for only $899,000. It will only take a lifetime to pay for it and nobody else in your 'hood will have it.
Every princess should have a perfect bed to sleep on. Sealy didn't make this mattress, Magniflex did. It's the "22k Gold-Thread Pet Mattress" and it goes for $3,000.
Originally the company made these for humans at a hefty $30,000 price tag, but when one customer requested a bed for her Maltese the company realized there's a market for pampered pets.
We all need to shed a few pounds and who really wants to get off their rear end to walk their dog when they can just buy them a treadmill. The Extra Large Pro Dog Tread is perfect for large dogs, but can be used for smaller dogs too. The treadmill has an LCD console and a whisper-quiet motor and comes with a training video and 30-day exercise program. With this treadmill in the home, your dog is sure to have buns of steel. The extra-large-dog treadmill sells for only $1,399. Smaller sizes are also available.
Maybe you have decided you do want to get up off the couch and go for a jog but you have an older dog that still wants to go but can't walk far. This might be just what your little pal ordered -- The Novel Dog Jogger-Stroller, $485. It's made for dogs over 45 pounds that have hip dysplasia or are recovering from injuries. Sounds practical, yet something about a dog —or a cat — in a stroller seems wrong, but the times, they are a changin'.
There is something about perfume on Valentine's Day that seems like the perfect gift. Why not rock it with a fragrance from Les Poochs V.I.P, for $3,000/4 oz. Even if you want to get your paws on this product right away, it's not so easy. It is made from the rare fragrance of the Osmanthus flower. It takes two years to grow and pick enough petals for distillation. Gifts are all about planning ahead.
If all of these things seem a little pricey there is always that round thing that bounces that we know they will love. The good ole tennis ball with a couple of dog treats and a little walk outside and you can be sure your best friend will love you forever.
---