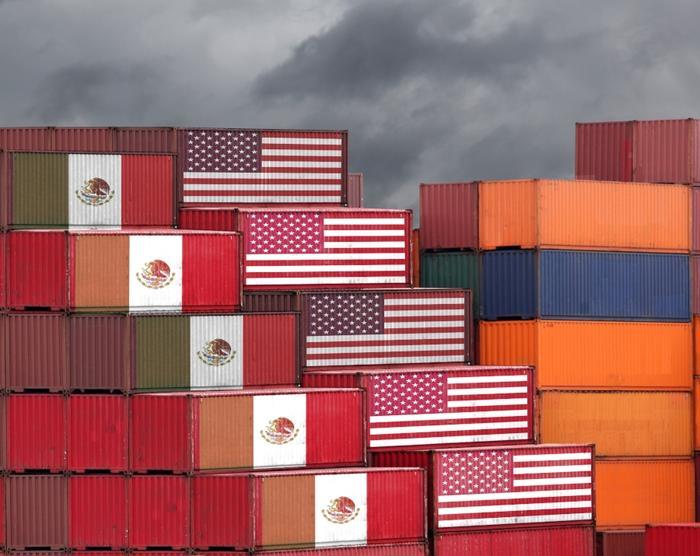 President Trump has threatened Mexico with a tariff on its exports to the U.S. unless it takes steps to stop the flow of people illegally crossing the U.S. border.
The announcement took markets by surprise, especially since the U.S., Canada, and Mexico have essentially agreed on a new pact to replace the North American Free Trade Agreement (NAFTA).
The tariff, if enacted as threatened on June 10, would make a lot of things more expensive for consumers, raising the price of everything from produce to new cars. Trump said the initial tariff would be 5 percent on all Mexican imports, but it could gradually rise to 25 percent if that country fails to take action to secure the U.S.-Mexican border.
Since NAFTA was enacted in 1994, the U.S. and Mexican economies have become deeply linked. Carmakers and other U.S. manufacturers closed plants in the U.S. and shifted operations to Mexico because labor was cheaper and there was little cost to bring goods back into the U.S. to sell to American consumers.
'Coercive measures'
Mexico's president, Andres Manuel Lopoz Obrador released a letter to Trump protesting the threat, saying "social problems are not solved with duties or coercive measures." Mexico's foreign minister is on his way to Washington to attempt to negotiate a solution.
Trump has increasingly blamed Mexico for the increase of Latin Americans illegally crossing the U.S. southern border, noting that most are citizens of Central American countries that are crossing Mexico's southern border and traveling the length of the country before entering the U.S.
The president's tariff threat was posted on Twitter. Earlier in the day, he took to the social media platform to voice his frustration with the border situation.
Presidential tweets
"Yesterday, Border Patrol agents apprehended the largest group of illegal aliens ever: 1,036 people who illegally crossed the border in El Paso around 4 am," Trump wrote. "Democrats need to stand by our incredible Border Patrol and finally fix the loopholes at our Border!"
A 5 percent tariff on a pint of Mexican strawberries might be unnoticeable for most U.S. shoppers, but it would be more apparent on a $25,000 new car, potentially raising the price by $1,250. A 25 percent tariff on that same car would raise the price by more than $6,000.
Not surprisingly, shares of auto companies with factories in Mexico sank in early trading on Wall Street. According to Reuters, about a quarter of the cars sold in the U.S. are imported from Mexico.