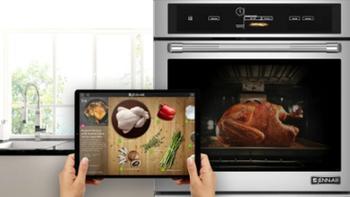 Whirlpool's new connected ovens may be the non-skilled home cook's recipe for success.
The appliance manufacturer recently announced its upcoming line of Jenn-Air wall ovens, which will incorporate software that can sense what you're cooking and recommend cooking settings.
The digitally-enhanced ovens are the result of a collaboration between Whirlpool and Innit software, a Silicon Valley startup founded in 2013. Together, the companies are seeking to bring to market an oven that can help consumers reduce mealtime stress via digital innovation.
Instructions and recipes
The ovens -- which can sense the weight, temperature, and type of food inside -- will be able to dish up step-by-step preparation instructions.
And whether it's taste or diet that must be catered to, Innit's apps can help by offering access recipes tailored to a consumers' unique preferences.
The new software platform "adds powerful and intuitive ways of connecting food to the kitchen," said Brett Dibkey, Vice President of Integrated Business Units at Whirlpool Corporation, in a statement.
Wireless connectivity has been a big focus of Whirlpool in recent years. In addition to coming out with app-controlled appliances, the company announced earlier this year its collaboration with Nest on Wi-Fi enabled ranges and ovens.
Its Innit-incorporated Jenn-Air brand wall ovens are expected to be available sometime during the first half of 2017.