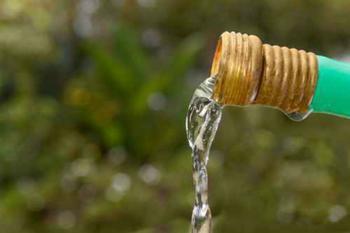 Could you be watering your lawn with toxic lead and phthalate chemicals? According to new data, the answer may be yes.
Researchers at the Ann Arbor-based Ecology Center recently followed-up their 2013 study, which examined hazardous substances in common consumer items, with data on toxic chemicals in gardening products -- specifically, lawn and garden hoses.
Thirty-two hoses were tested for the presence of chemicals such as lead, cadmium, bromine, chlorine, and phthalates. The results of the study indicated that high levels of toxic lead and phthalate chemicals are still lurking in many garden hoses.
Experts recommend steering clear of hoses containing toxic chemicals, as they have been linked to health problems such as birth defects, impaired learning, liver toxicity, premature births, and early puberty in laboratory animals.
"Even if you actively avoid putting harmful chemicals into your yard or garden in the form of pesticides, you could still be adding hazardous chemicals into your soil by watering with one of these hoses," said Gillian Miller, Ph.D, staff scientist at the Ecology Center, in a statement.
Best and worst products
The good news, Miller adds, is that there are a number of safe hoses available. Safe, top-rated products were all polyurethane hoses.
The following hoses were rated among the best:  
Big Boss AquaStream Ultra Light

Pocket Hose Dura-Rib II

Room Essentials Coil Hose with Multi Pattern Nozzle

Water Right Professional Coil Garden Hose
Some hoses didn't fare as well, however. Examples of the worst products include:
HDX 15-foot Utility Hose, from the Home Depot: The product contained phthalate plasticizers and 6.8% (68,000 parts per million) lead.
Swan Hose Reel Leader 5/8 in x 6 ft Hose, from Walmart: The product contained phthalate plasticizers and 0.52% (5,200 parts per million) lead.
Apex NeverKink 5/8 in x 50 ft, from Lowes: The product contained a mixture of chemical hazards commonly associated with e-waste: phthalate plasticizers, lead (366 ppm), antimony (1,779 ppm) and bromine (1,592 ppm).