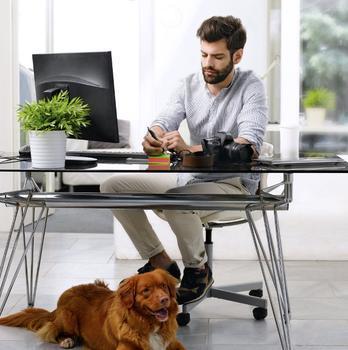 With their wagging tails and chipper dispositions, dogs have a way of infusing any space with good energy. And these days, some pet owners don't have to wait until they get home to bask in the infectious enthusiasm of their favorite companion -- they can do so at work.
Many companies are saying 'yes' to pets in the workplace. The move is likely to be seen as a good one by the 41 percent of pet parents who agreed, in a recent survey by Wellness Natural Pet Food, that a pet-friendly workplace is important to them.
Additional findings from the survey revealed that 52% of Millennials, 33% of baby boomers, and 31% of Generation X-ers are in favor of pet-friendly offices.
Pet-friendly companies
This new research makes it clear that many pet owners would prefer not to leave Fido behind when they go to work. And at some companies, they wouldn't have to.
Here are a few of America's most pet-friendly companies, according to the survey:
Kimpton Hotels

Tradesy

Life is Good

HubSpot

Kurgo

Clif Bar and Company

Etsy

The Nerdery

Bitly
Benefits of dogs in the workplace
Allowing dogs in the workplace has been linked to a number of potential benefits, including reduced employee stress and increased employee satisfaction.
In a 2012 study, researchers from Virginia Commonwealth University concluded that dogs "make a positive difference in the workplace," helping to reduce employee stress while boosting office morale and productivity. 
"Pet presence may serve as a low-cost, wellness intervention readily available to many organizations and may enhance organizational satisfaction and perceptions of support," said the study's lead author, professor Randolph T. Barker.
"Of course, it is important to have policies in place to ensure only friendly, clean and well-behaved pets are present in the workplace," he added.
'Petiquette' tips
Indeed, practicing good "petiquette" is important. Pet parents who choose to bring their dog to work should be sure to plan ahead, according to Dr. Danielle Bernal, a veterinarian with Wellness Natural Pet Food. 
Before walking into work with your pup, Bernal suggests ensuring your workspace is puppy proofed. Pet owners should also make sure their colleagues are comfortable with the idea of a dog in the office. 
To help ensure your dog isn't too wound up while you're trying to work, start your dog's day off with a healthy amount of exercise. Finally, be sure to schedule breaks and have a backup plan in case your dog can't get settled.