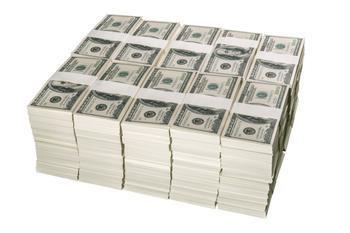 Consumers nearing retirement most likely have been told over and over they need to be saving money for retirement, but exactly how much?
Well, the answer to that is, "it depends." It can depend on a lot of things, including what other assets you have, whether and how long you plan to work in a "retirement job," and what the cost of living is where you live.
The folks at GoBankingRates.com have addressed that last consideration, doing the math to determine the states where $1 million in retirement savings will last the longest and where you'll spend it in the shortest amount of time.
Mississippi millionaires
For example, if you have $1 million and retire in Mississippi, GoBankingRates estimates the money would last 26 years and four months. In Arkansas, it's estimated to last 25 years, six months, and 25 years, two months in Oklahoma.
It should last an even quarter century in both Michigan and Tennessee.
Taxes and housing costs are a factor in making the money go farther, and all five states are hospitable to retirees on those counts. But they work against you in the five states where $1 million goes fast.
In Hawaii, $1 million might only last 11 years, 11 months. In California, it might last 16 years, five months, and 17 years in Alaska. It will last only a little longer in New York and Massachusetts.
Big difference between Hawaii and Mississippi
The editors at GoBankingRates conclude that the cost of living in Hawaii runs just under $84,000 a year but just under $38,000 in Mississippi. Healthcare is a big cost in retirement and Alaska's healthcare is the costliest -- $8,479 a year.
Housing is expensive in California, but is nearly $16,000 a year less than housing costs in Hawaii.
The editors conclude that the average retirement age is 63 and the average life expectancy is 85. AARP suggests retirees save $1 million for retirement, though some planners recommend a higher number.
In reality, it appears that few retirees have joined the million dollar club. A 2016 BlackRock survey found that the average Baby Boomer between the ages of 55 and 65 had only saved $136,000.