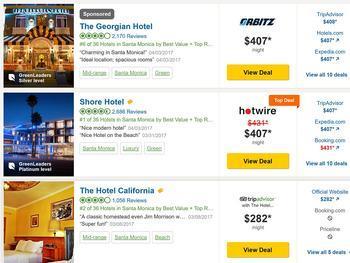 Savvy travelers know they can save money by booking air travel at just the right time. Ticket prices fluctuate significantly between the time the flight is posted and when it takes off.
The editors at TripAdvisor say the same is true when it comes to booking a hotel room for summer vacation travel, and the timing may be different from other seasonal travel periods.
Their research shows the best times to book will depend on the region or city where you are going during the usually busy the summer vacation season. The price changes may not be as dramatic as for airfare, but there are savings to be had.
Here's an example: the least expensive time to book a hotel room in the U.S. is within three months of a summer trip. If you time it right, you can pocket up to 9% in savings.
Big savings in Paris
Traveling to Europe? Book your Paris hotel room two months in advance and you might save 23% off peak summer rates.
"Bargain hunters know that timing is crucial when it comes to booking the lowest hotel prices," said Brooke Ferencsik, senior director of communications for TripAdvisor. "TripAdvisor data shows that travelers can often find the best prices on summer hotels months in advance, with a booking sweet spot typically within three months of their trip."
But if you are traveling to Africa, TripAdvisor recommends booking four months out to save the most. Three months in advance is ideal for Asia and Central America, while four months is recommended for the Caribbean. For the South Pacific, you can wait until two months before check-in.
Coordinating airfare
It's a little different for airfare, which might make travel planning tricky. Last year Cheapair reported the best time book a flight to Central and South America is 70 days from departure. It's about the same if you're flying to Canada or Mexico.
You need to give yourself a lot more time when traveling to Europe or Asia. The best fares to European destinations are available about 120 days in advance. Booking flights to Asia requires even more advance time – 160 days.
As for booking a hotel room in specific U.S. cities, the TripAdvisor editors suggest two months for both New York and Chicago, but give yourself six months when booking in Orlando.