---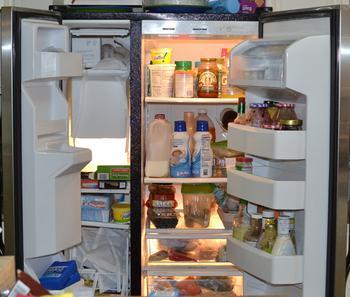 Depending on how ambitious you want to get, spring cleaning can include everything from cleaning out the garage to vacuuming the blinds.
But spring is also a good time to give your refrigerator some attention. If you've jammed leftovers into the freezer and forgotten about them, or packed the refrigerator compartment full of food and beverage containers, there's a good chance a lot of it could be thrown away.
And as a safety issue, it should be thrown away.
Power down
According to the National Frozen and Refrigerated Foods Association, spring cleaning the fridge should start by powering it down and emptying it out. Place the ice in the freezer into a cooler where you can store the food you are keeping.
Fill the sink with soapy water and spread dish towels on the kitchen counters. Fill a spray bottle with a solution of one part water, one part white vinegar and a teaspoon of dish soap.
Next, start emptying the contents of the freezer and refrigerator onto the counter. Carefully look through all the food and toss what you don't want. Check expiration dates and look for mold. When in doubt, throw it away. Everything else goes in the cooler.
Remove drawers and shelves and wash them with soapy water. Spray the interior with your cleaning solution and wipe it dry. Dry the shelves and drawers and put them back in. Clean the grill on the front and pull the unit away from the wall so you can vacuum the coils.
Temperature check
Before putting food back in, check the temperatures in both refrigerator and freezer to make sure it's cold enough. The fridge should be at least 40 degrees and the freezer at least zero.
Finally, restock the refrigerator with the food you are keeping, being careful not to cross-contaminate meat with produce. It's a good idea to write dates on packages to remove future guesswork.
Giving your refrigerator some attention will not only give you a cleaner kitchen, thinning out the contents may improve the appliance's efficiency. It will also keep your food safer.
Thanks
Keep an eye on your inbox, the lastest consumer news is on it's way!
Unsubscribe easily whenever you want
---