---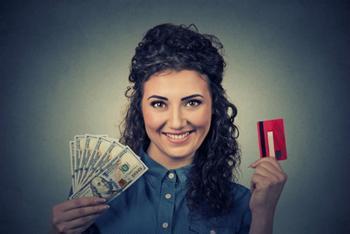 Consumers are learning that it pays to be choosy about which credit card they use. Many now offer some type of reward or incentive, so instead of using a card that pays nothing, it's clear consumers should choose a card that offers some type of reward.
But what kind of reward? While there are many choices, a survey by Ally Bank shows most consumers prefer cold, hard cash.
Fifty-eight percent of the consumers in the survey chose cash back instead of miles, store promotions, and low introductory rates.
Ally Bank, of course, recently introduced a cash back card which has gotten some pretty good reviews. However, there are other cash back cards that offer attractive benefits as well.
First, let's take a look at the Ally CashBack Credit Card. The card, introduced in June, will provide a 2% cash back reward when the card is used for eligible gasoline and grocery purchases. It provides 1% cash back on all other purchases.
Having a bank account can add to rewards
The Ally credit card also pays an additional 10% bonus if earned cash back rewards are deposited into an Ally Bank non-IRA savings, interest checking, or money market account. That makes it similar to another attractive cash back card, the BankAmericard Cash Rewards Card.
The BankAmericard product pays 3% on gasoline purchases, 2% on groceries, and 1% on everything else, on spending of $2,500 per quarter. It too provides a 10% bonus when you redeem rewards into a Bank of America account.
While the BankAmericard caps rewards and the Ally card doesn't, the BankAmericard has the added benefit of a one-time cash bonus of $100 when you spend $500 in the first 90 days of account activation.
Meanwhile, the Chase Freedom Card is among the most generous of cash back credit cards. It pays 5% on up to $1,500 of purchases per quarter, with the categories eligible for the rewards changing on a quarterly basis. Still, if you managed to max out the purchases each quarter, you could earn $75 cash back.
Don't want to keep up with rotating categories? There are plenty of cash back cards that pay 1% to 1.5% on everything, with no caps.
When choosing a cash back rewards card, the important thing is to choose one with no annual fee. Otherwise, the rewards won't be quite so rewarding.
---