---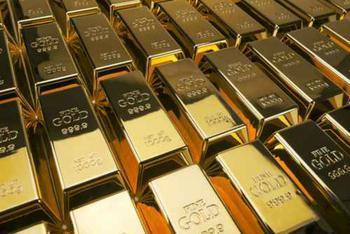 Gold prices have been on a tear over the last couple of months, especially as economic uncertainty has surfaced around the globe. Last week's Brexit vote, for example, sent prices of the precious metal soaring.
If you are now considering buying gold and watch cable TV, you might think there is only one way to do so. The only commercials you see for gold are for "physical" gold – usually gold coins. The commercials show stacks of the shiny coins and make vague promises.
For example, one commercial for minted gold coins exclaims "experts predict gold will double in value." It doesn't say how long it might take to achieve that, or how low prices might fall before rallying to those new highs.
But buying gold coins is not the only way to purchase the precious metal. With an online trading account, consumers may purchase shares of gold mining companies or a gold ETF, whose prices tend to rise and fall with the market price of gold.
Risks
Companies marketing physical gold are usually quick to point out that there is risk involved in these kinds of investments. A mining company might be poorly managed, for example, and its price could fall due to factors unrelated to the price of gold.
While that is true, purchasing gold as a security allows you to buy and sell it instantly, something you can't do with physical gold. Physical gold also carries a price premium you must pay. The cost of minting the coins is built into the price. So, in fact, is the cost of all those cable TV commercials.
As securities, gold is traded in different forms. SPDR Gold Shares is an ETF that holds gold bars and sells shares. It seeks to match the price performance of the gold market.
VanEck Vector Gold Miners is another ETF that seeks to replicate as closely as possible, before fees and expenses, the price and yield performance of the NYSE Arca Gold Miners Index. The fund normally invests at least 80% of its total assets in companies involved in the gold mining industry.
What's your goal?
It's impossible to say what is the best way to invest in gold because it will depend on the goals of the individual investor. People who invest in physical gold, by and large, do so out of fear, as a hedge against economic catastrophe. They usually hold gold for a long period of time and mistrust the stock market.
People who simply want to take advantage of gold's rise for a short-term gain may find investing in gold-related securities to be quicker, easier, and less risky.
Whichever way you decide to go, you should always discuss it with an impartial financial advisor and do plenty of research.
Chris Hyzy, chief investment officer at U.S. Trust, tells Banrate.com that gold really shouldn't be considered an investment. Rather, he says it's a hedge against economic turmoil that can abruptly affect the price of other assets, such as real estate or equities.
---