---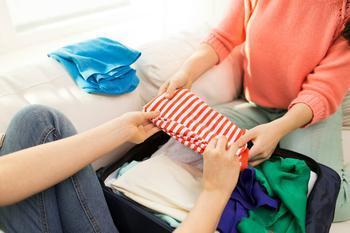 No matter how you travel these days -- airplane, bus, or train -- one thing is certain, it will be crowded. It is helpful to pack a carry-on bag with all the essentials to keep you occupied and comfortable.
Choose a carry-on bag that is roomy and lightweight and can easily fit under a seat. If you prefer to store it in an overhead compartment, keep your frequently used travel essentials handy in a smaller zippered bag.
Here are twelve items to consider:
Technology
Your mobile phone, tablet device, and appropriate chargers.
Reading glasses
If you wear glasses, you'll be lost without them, so pack an extra pair. If the dry air bothers you, pack some eye drops along with eye glass wipes.
Travel documents
What will you need upon arrival or in case of an emergency? Your tickets, travel confirmations, itinerary, emergency contacts, and a list of medications. Bring photocopies of your passport, photo identification, health insurance cards, and your credit cards.
Medications
Always travel with your prescription medications. Never pack them in your luggage as they might get lost.
Something warm
You never can tell what the temperature will be. While it is easy to shed layers, pack something for the cold. A fleece, sweater, large scarf, or a lightweight blanket will do.
Neck pillow
Lightweight neck pillows provide needed support while traveling. Look for ones that attach right on your carry-on bag.
Water bottle
If traveling by airplane, bring an empty water bottle to fill after passing through security or purchase a bottle inside the terminal. It's important to keep yourself hydrated on a flight so drink plenty of water.
Reading material
E-readers or an app on your tablet device make it easy to carry several books. Paperback books, magazines, or work will also keep you occupied.
Pack of travel tissues
When you need a tissue, you need a tissue. In a pinch, tissues can also double for napkins.
Antibacterial cleansing wipes
Use these to sanitize your seating and eating area and even for cleaning your hands.
Headphones
Tune out the noise with noise cancelled headphones or earbuds. It's helpful to bring an extra pair of earbuds should you have a noisy seatmate.
Snacks
Onboard food purchases are limited so it pays to pack your own snacks and food. Dried nuts and fruit, hard candies, gum, granola or granola bars, fresh fruit, and packs of crackers and cheese pack well. If it's a long trip you can pick up a sandwich or yogurt from the terminal.  
As you travel, pay attention to what makes you most comfortable and add that to your carry-on bag. It might be hand lotion or lip balm. After a long flight with a smelly seatmate I added an herbal balm to my carryon-on bag. It has the added benefit of helping me sleep.
---