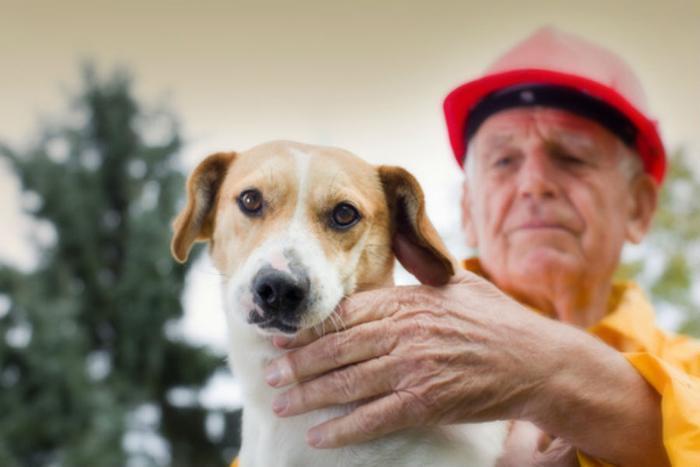 To help ensure you and your family are prepared for a natural disaster, experts recommend having an emergency plan and a well-stocked disaster supply kit. Families with pets should also build a portable emergency kit.
Having an emergency 'go bag' filled with necessary documents and supplies can help ensure your pet stays safe in a disaster that may involve flooding, downed power lines, and debris.
Pack emergency items ahead of harsh weather so you'll be able to leave quickly without forgetting any important supplies. Your emergency go kit should be easy for you (or your dog, if you use a dog backpack) to transport in the event of an evacuation.
Packing list
Here's what to pack in your emergency kit, according to the ASPCA.
Pet first aid kit

Canned/dry food (7+ days' worth) and collapsible feeding bowls

Bottled water (3-7 days' worth)

Spare collar/harness with ID tag, rabies tag, and a leash

Folding crate or pet carrier

Blanket or bedding

Photocopy and/or USB drive of health records and your vet's contact info. It's also a smart idea to have current photos of your pets in case you get separated.
You'll also want to pack spare medication and flea treatment in case you need to shelter with other dogs. To help your pet stay calm during harrowing times, consider tossing in a few comfort items, such as treats, chew toys, bedding, or a ThunderShirt.
If you evacuate
Additionally, the ASPCA recommends putting Animals Inside alert stickers on your home windows to let rescue personnel know you have a pet in the home. Write "Evacuated" across the sticker if you evacuate with your animals.
Be sure to evacuate early so that you and your pets will be able to get to safety before the disaster hits. If you are sheltering at home, hunker down in a protected room or basement and make sure to have your emergency gear on hand.