---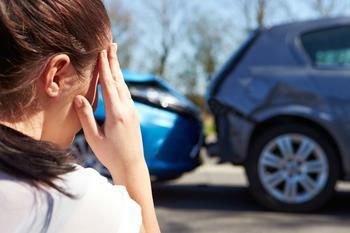 It can happen in the blink of an eye. Another car runs a red light, plowing into the side of your vehicle. Or you lose control of your car and run off the road.
The result is damage to your and others' vehicles and possibly, serious injury. When a highway accident occurs, your first feeling may be shock, even if you aren't seriously hurt. But it is important to keep your wits about you.
What do you do first? According to State Farm Insurance, the first thing to do is take a deep breath and calm yourself. Check for injuries and, when in doubt, call for an ambulance.
Minor accidents, when there is little apparent damage, might present the most confusion. But State Farm advises its clients to treat it as a serious encounter. If your car is drivable, remove it from the roadway and turn on your hazard lights. If you have cones or flares, put them out.
Always call the police
Call the police, even if it's a minor fender bender. The main reason is to create an official record of what happened. It could be important later on.
Once the vehicles are secure and police have been summoned, notify your insurance company of the accident.
You should get the names, address, and phone numbers of everyone involved in the accident, along with a description of the car and license plate number and insurance company. Yes, the police will also collect this information in their report but you should record it as well, as a backup.
How you deal with the other driver, or drivers, is also very important. Regardless of who you think was at fault, keep your cool. Having an accident escalate into a road rage incident helps no one – certainly not you.
No apologies
Instead, inquire about the condition of the other driver and his or her passengers. Express concern and compassion but do not, under any circumstance, apologize or accept responsibility for the accident. When answering the police officer's questions, answer with facts. Don't say something like "it was my fault, I'm so sorry."
What happens after an accident will be important to how responsibility for the accident is assessed and how claims are paid.
Personal injury lawyers say taking pictures of the accident scene is a good idea, if it can be done safely. Since cellphones have camera features, anyone with a phone can take pictures. These could become evidence in any potential case.
Lawyers also recommend seeking medical attention, even if you don't think you have been injured. Again, seeing a physician creates a record that may be important later on.
Do you need a lawyer?
Obviously the insurance companies would like to resolve accident claims without lawyers getting involved. Whether you decide to speak with a personal injury attorney is a judgment call on your part. It might not be necessary but, in some cases, it could ensure you are fairly compensated.
If you are driving a fairly new automobile, for example, on which you are still making payments, you need to be sure that the settlement includes repairing the car to the condition it was in before the accident. For example, the type of parts used in the repair can devalue the automobile if they are used or an inferior grade to what was used when the car was manufactured.
Suffering serious injuries, including those not immediately apparent, may be another reason to obtain legal counsel, according to the legal website Nolo.com.
"Sometimes, the skills of an experienced personal injury lawyer -- or at least the threat to an insurance company that such a lawyer may present -- are worth the money you must pay that lawyer to represent you," the site says.
Most personal injury attorneys charge clients a contingency fee. That means the client pays no money up front but gives the attorney a percentage of any settlement received. If the lawyer loses the case and you get no money, the lawyer receives no fee.
If you plan to seek legal representation after an accident, you should do so early in the process -- before you make any statements, sign any documents or give any information other than that required by police investigators. Do not talk to adjusters or other insurance company representatives.
---