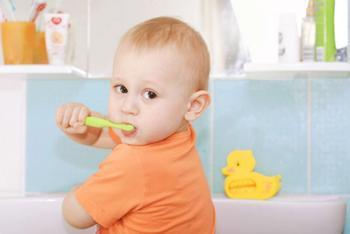 Your baby's teeth may cause quite a stir when they first appear, but not all home remedies marketed to ease the pain of teething may be safe for little ones.
As we reported, the Food and Drug Administration has issued a recall of Hyland's homeopathic teething tablet products. In a laboratory analysis, the agency found that the products contained inconsistent levels of belladonna which may far exceed the amount claimed on the label.
Belladonna is a toxic substance that can cause seizures and other adverse events. The FDA is urging consumers to stop using products marketed by Hyland's as they pose an unnecessary risk to children.
Protecting kids' health may start with avoiding certain homeopathic teething tablet products, but it doesn't end there. Dentists say parents should start maintaining the health of their children's teeth as soon as they first appear.
Caring for new teeth
Your child's chompers may be new on the scene, but keeping them looking that way will require some daily upkeep. To better care for your tots' teeth, experts from the American Dental Association (ADA) say it's important to know a few "tooth-truths."
Here's when parents and caregivers should begin performing certain dental health tasks:
When to start brushing. Your child's grin may still be sparsely populated with teeth, but those few teeth still need brushing. Because decay can happen as soon as teeth first appear, the ADA recommends picking up a tube of fluoride toothpaste when teeth first come through.
How much toothpaste to use. Until your little one is old enough to brush on his or her own, brush your child's teeth twice a day with a child-sized toothbrush. Top the bristles with a smear of toothpaste about the size of a grain of rice. For children three or older, use a pea-sized amount of toothpaste.
When to schedule the first dentist visit. The first dental visit should take place after the first tooth appears but no later than your child's first birthday, according to the ADA. That's because kids can get cavities as soon as they get teeth.
When to start flossing. If any teeth are touching, it's time to start flossing between them. Consider using a child-friendly plastic flossing tool to make the task easier.