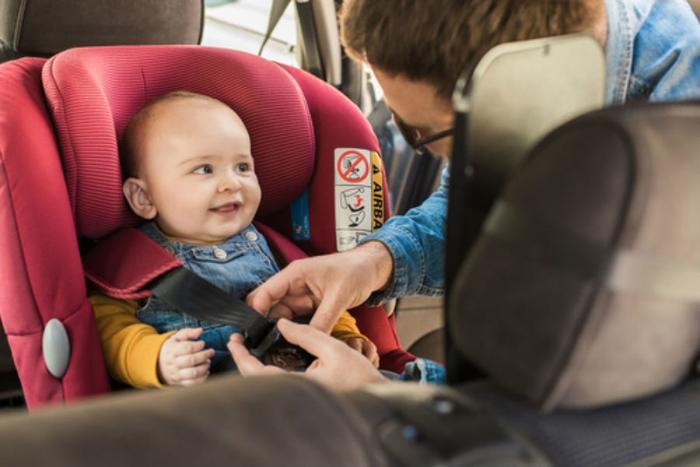 Kids are the most precious cargo, which is why it's so important to make sure your little one's car seat is right for their age and size.
In the event of a crash, correctly used car seats can reduce the risk of death by as much as 71 percent, according to Safe Kids Worldwide.
To give parents all the information they need to travel safely with their child, Safe Kids Worldwide has teamed up with Babies "R" Us to launch a promotional and informational campaign that aims to help protect kids from preventable injuries.
Safety education event
In years past, Babies "R" Us and Toys "R" Us offered parents and caregivers an opportunity to trade in old or outgrown car seats in exchange for a discount. This year, Babies "R" Us is putting a new spin on the Great Trade-In Event.
Instead of having to drag your old car seat into a Babies "R" Us store, you can receive a 25% discount on all new car seats (in store or online) throughout the entire month of September -- no trade-in required. Babies "R" Us says it will donate 5% of proceeds of each car seat sold to Safe Kids Worldwide to help protect kids from preventable injuries.
Additionally, the retailer will host an "Ask the Car Seat Expert" event at select locations on Saturday, September 9. At the event, parents will have a chance to obtain personalized car seat recommendations from representatives from Safe Kids Worldwide. New parents can also be briefed on topics like car seat safety, safe sleep environments, in-home childproofing, and bath time.
Car seat recommendations
Here's a quick overview of car seat recommendations for kids, according to the experts at Safercar.gov:
Birth to 12 months. Always use a rear-facing car seat for children under age 1.
1 to 3 years. Rear-facing is still the safest option, so continue to use a rear-facing seat until your child reaches the maximum height or weight limit allowed by the car seat's manufacturer. When this happens, switch to a forward-facing car seat with a harness and tether.
4 to 7 years. Keep your child in a forward-facing car seat until they reach the top of the weight or height limit, then switch to a booster seat (still in the back seat).
8 to 12 years. When you child is big enough to fit in a seat belt properly (with the shoulder belt lying snugly across the shoulder and chest, not across the neck or face), they can begin traveling without a car or booster seat. They should still ride in the back seat.
In addition to choosing an appropriate car seat for your child's age and size, it's also important to be aware that car seats expire. The plastic that car seats are made of becomes less durable with age. Be sure to take note of the expiration date listed in your car seat's manual and swap out your old car seat for a new one when necessary.