---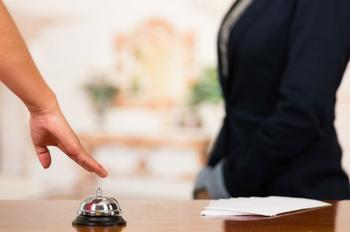 Frequent travelers have their pet peeves about hotels -- low water pressure in the shower, not enough towels, or overpowering air freshener in the room. Yikes, what are they trying to cover up?
But Expedia wanted to know which behaviors of other guests bothered travelers the most. For the second straight year in its survey, inattentive parents top the list, mentioned by 72% of respondents.
These are the parents who blithely read their email or carry on a conversation while their little hellions run amok through the lobby.
Close behind on the list of hotel guest gripes is people making loud noises in the hallways, mentioned by 69%. Fifty-nine percent get upset at people having loud parties in their rooms.
Guests who do nothing but complain, bicker, or booze it up at the bar make the list. So do guests who don't hold back their affection for one another, either by canoodling in the hot tub or being particularly loud with their in-room lovemaking.
Particularly sensitive
According to the study, some 18% of respondents have asked to move to a different room because of noisy neighbors. John Morrey, vice president and general manager of Expedia.com, says hotel guests may be particularly sensitive to breaches of what is considered good hotel etiquette.
"The hotel experience is one that many people love," Morrey said. "Fresh towels, a comfortable made bed, room service at the ready, it can be a deeply enjoyable experience. But it's vital to remember that you're not staying there by yourself, you are surrounded by hundreds of people who have paid to share that space."
W-Fi rules
In bad news for hotel staff, the respondents were divided on whether tipping is expected. However, there was near universal agreement on the importance of free Wi-Fi.
When it comes to tipping, 30% say they never do it during a hotel stay. Those who do tip are most likely to leave a gratuity for the housekeeper.
The survey also produced a number of confessions, with 24% admitting to hoarding the soap and shampoo to take home with them and 11% admitting to sneaking extra people into the room without paying extra. About 10% said towels and other items from the room have somehow gotten into their suitcases as they were leaving.
Free Wi-Fi is by far the amenity travelers value most, ranking only behind "cost of the room" in the choice of a hotel.
---