---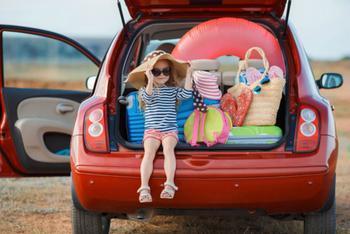 The secret to a more pleasant experience on the road could just be a little more legroom. That's the key finding from a survey conducted by car research and shopping site, CarGurus.
Bigger may be better when it comes to family vehicles. The survey found that families with multiple kids who drive sedans are less satisfied with their cars than families who own minivans and SUVs.
When asked why their sedan didn't meet their family's needs, 62% of respondents said it was because the car wasn't big enough. These days, a car's amount of space is important as families are finding themselves logging a substantial amount of time on the road.
8 days of driving per year
Shuttling kids to and from school and other activities amounts to a great deal of time spent in the car. One-third of parents of middle schoolers said they spend four or more hours per week driving their kids around, which equates to roughly eight days of driving per year.
While more time to be together as family is a good thing, most families would prefer to do so in a car that can comfortably fit everyone and the cargo they're traveling with.
"Parents weigh many important factors when they consider their family car, but it seems that bigger capacity is one of the best indicators for overall satisfaction, especially as kids grow up," said Matt Smith, Editor at CarGurus.
Best family cars
In addition to looking for a vehicle with ample space, parents consider price, safety, and fuel economy when choosing a car. These factors helped CarGurus come up with its list of Best Family Cars of 2016.
"The benefits of more space and improved comfort and convenience features are huge for families, and manufacturers are delivering on these bigger expectations at many budgets and with improved fuel efficiency," said Smith. "Sustained low gas prices also make the super-sized ride a lot more palatable for families."
Here are CarGuru's picks for best family vehicles of 2016:
2016 Volkswagen Golf Sportswagen  

2016 Subaru Outback

2016 Toyota Highlander Hybrid

2016 Honda Odyssey

2016 Volvo XC90
---