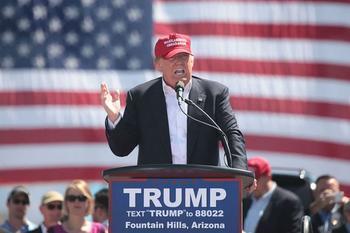 When the shock of Tuesday's stunning election results begins to wear off, consumers may start to wonder what a Trump administration might mean for their pocketbook. Will it help or hurt?
It's possible that many voters who pulled the lever for the GOP ticket were voting against the status quo and for change, hoping for better job opportunities and rising incomes, which have been stagnant since the recovery from the Great Recession.
Trump has said on numerous occasions that his first priority as president would be to "repeal and replace" Obamacare. Some consumers faced with skyrocketing premiums might be interested in an alternative. On the other hand, consumers who have health coverage only because they can't be denied due to a pre-existing condition might reasonably wonder how they would fare under a replacement plan.
Repealing Obamacare a challenge
But repealing the Affordable Care Act (ACA) may prove to be a tall order. While it is true that Republicans will control the White House, House, and Senate next year, they will still need the cooperation of some Democrats to get anything through the Senate.
In an interview with NPR, Jack Hoadley, a research professor at Georgetown University's Health Policy Institute, says the Trump Administration is more likely to use executive powers to tinker with Obamacare around the edges.
"They are probably, practically speaking, talking about leaving the ACA, as is, in place," Hoadley told NPR. "Then he can change the ACA to have it showcase the kinds of plans he wants to see in place."
Rising interest rates
The outlook for interest rates under a Trump administration remains unclear. The Wall Street Journal has been quick to point out that Trump's surprise victory makes a Federal Reserve rate hike less certain, since the markets have reacted negatively to the election results. It says the Fed is now much less likely to take any action that might introduce economic headwinds.
At the same time, Trump has been highly critical of the Fed's extended low interest rate policy and will likely replace Fed Chair Janet Yellen at the first opportunity. Consumers and investors should expect a rising interest rate environment, if not immediately, in the near future.
Gasoline prices should remain low
Short term, the election results may keep gasoline prices down for months, if not years. Bloomberg News reports the Trump victory likely makes it harder for OPEC to reach any kind of agreement later this month on capping oil production.
"The pressure on OPEC to come up with a deal only increases in the wake of Trump's victory," said Giovanni Staunovo, an analyst at UBS in Zurich told the news agency. "Even though the oil market is rebalancing, the political uncertainty in the short term leaves oil prices vulnerable to downside, that makes it more urgent for OPEC to act."
Added pressure comes from Trump's stated support for U.S. energy production, which has lagged since OPEC began creating a world oil glut two years ago.
Consumer agency in the cross-hairs
Finally, the future of the Consumer Financial Protection Bureau (CFPB) could be very much in doubt. The agency, created by the Dodd-Frank legislation, has taken a large number of very consumer-friendly actions. In the process, it has earned the opposition from Republicans, as well as the financial institutions it is regulating.
As CNBC reports, the legal challenges facing the agency, created in 2010, may require Congress to make changes. The business network says those changes are almost certain to reduce the agency's power and make it less consumer friendly.