---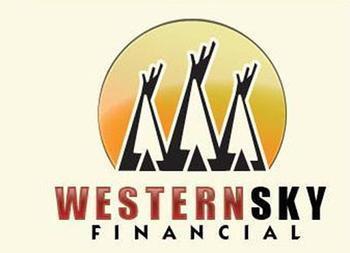 In its advertising, Western Sky, a division of Payday Financial, is upfront and unapologetic about its fees.
"Yes, the money's expensive, but it's a lot cheaper than a payday advance," the message says. "And it's enough to really get you over the hump. So get off the payday treadmill."
Payday lenders often make small loans of $200 or so but Western Sky makes larger loans, usually of $850 to $10,000. Owned by a Native American and based on the Cheyenne River Indian Reservation in South Dakota, it has sought to set itself apart from payday lenders but has generated some of the same kinds of consumer complaints.
Complaints
Karen, of Portage, Wis., said she applied and was approved for a loan of $1,500.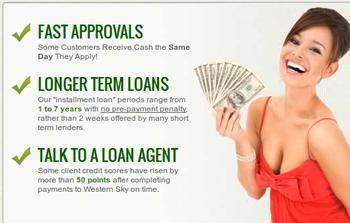 "Right away they took $500 off that I had to pay back," Karen wrote in a ConsumerAffairs post. "Then I gave them all my information including my account number and routing number and password. She told me she was going to email me. An hour later I got an email, then she said she was going to call back and didn't. So I called to cancel. The supervisor was rude to me and I kept telling him, 'No, I don't want the loan,' and he hung up on me. A $1,500 loan is costing me $5,000 in 24 months."
Everado, of Defiance, Ohio reports taking a loan of $2,500 in November 2010 and was also chagrined to see he had been charged a $500 origination fee.
"My payments are $298.94, which I have been paying for 19 months, so far," he writes. "I cannot find a way out. They say I still owe $2,500.00 as of today. Do the math and I have so far paid back $5,679.86."
Different than a payday loan?
Just like most payday loan customers, Everado and Karen are finding it's very hard to get out of debt. But perhaps a difference is most payday loan customers go into the two-week transaction believing they will somehow be able to repay the loan in that time. When they can't they are forced to take out an endless series of payday loans that the Center for Responsible Lending calls the payday loan debt trap.
Western Sky says it is more upfront about the costs of its loans, which it says are installment loans of up to seven years. Indeed, that appears to be the case.
On it's web page devoted to rates, Western Financial lists six representative loan amounts and shows the origination fee, the amount of money the borrower receives, the annual percentage rate (APR), the number of payments and the length of the loan.
What it costs
In the example of the $5,000 loan the borrower would pay a $75 origination fee -- it's $500 for loans under $1,500 -- and would pay 116.73% APR for seven years, making monthly payments of $486.58. Over the life of the loan the borrower would pay a total of $40,872.72. The loan of $5,000 would cost $35,872.72.
"Yes, the money's expensive," as Western Financial acknowledges in its ads. Are there cheaper alternatives for people with poor credit?
Subprime alternative
Let's compare it to First Premier Bank's Mastercard, which often makes the list of the most expensive subprime cards and draws a number of complaints at ConsumerAffairs. It, too, is aimed at poor-credit consumers and charges a $120 annual fee and 59.99 % APR.
Using the example of the $5,000 loan for seven years, the credit card's monthly payment would be $254.18 (assuming the $120 annual fee was paid in full each year) as opposed to $486.58. The cost of the loan over seven years, including the seven annual payments, would be $1,7191.12, a savings of about $18,681.
Western Sky's parent company has run afoul of state and federal authorities in the last couple of years, though not for its loan rates. Other business practices have come under scrutiny.
Colorado crackdown
In March 2011 Colorado Attorney General John Suthers sued Western Financial, accusing the company of making unlicensed, high-interest loans to Colorado consumers. The suit claimed the company made more than 200 loans to Colorado consumers since at least March 2010, during which time it was not licensed with the state.
The loans ranged in value from $400 to $2,600 and had terms ranging from seven months to 36 months. The loans' annual percentage rates ranged from 140 percent to 300 percent. Under Colorado's Uniform Consumer Credit Code, lenders making subprime loans must be licensed with the Office of the Attorney General. Because Western Sky Financial made loans with interest rates higher than 12 percent, it must be licensed, the suit said.
A year later West Virginia Attorney General Darrell McGraw reached a settlement with Western Sky's parent, knocking down one of the company's principal shields against prosecution. The company claimed that the loans originated on the Cheyenne River Indian Reservation in South Dakota, where Payday Financial was located, and were subject to tribal laws rather than the laws of West Virginia or other states where the borrowers resided.
Not an Indian tribe
After a lengthy court battle a circuit court ruled that Payday Financial was not an Indian tribe and therefore was not entitled to tribal immunity. The judge ruled that the loans were governed by West Virginia laws. Payday Financial challenged the ruling by filing a petition for writ of prohibition with the West Virginia Supreme Court of Appeals, but the Appeals Court let the ruling stand.
Because of actions by various states, Western Sky says it does not do business in California, Colorado, Maryland, Missouri, South Dakota and West Virginia.
Early last year the Federal Trade Commission (FTC) expanded its case against Payday Financial, charging that it sought to unfairly and deceptively manipulate the legal system and force debt-burdened consumers throughout the country to travel to South Dakota and appear before a tribal court that did not have jurisdiction over their cases.
In an amended complaint, the FTC charged that the South Dakota-based lender's suits against customers are unfair, and that its contract language about the court where such suits would be brought is deceptive.
---