---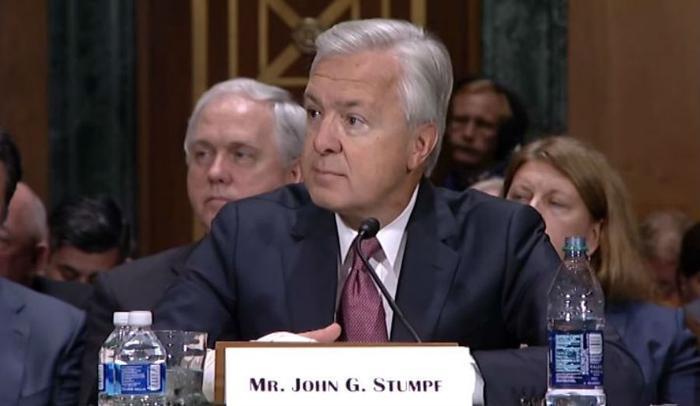 It hasn't been a good month for Wells Fargo. The company found itself in the middle of a scandal after reports revealed that its employees engaged in fraudulent behavior by opening customer accounts without consent.
The actions resulted in multiple lawsuits, including $185 million in fines from federal regulators, the Office of the Comptroller, and the City and County of Los Angeles. It is also likely that the company will face a probe from the FBI and federal prosecutors.
Now, the company's board has decided to penalize CEO John Stumpf by forcing him to forfeit $41 million from his compensation package. He will also not receive any bonuses for 2016 and will forgo his salary while the company performs its own internal investigation into the company's banking sales practices. Carrie Tolstedt, the former head of retail banking, will also be denied $19 million.
"We are deeply concerned by these matters, and we are committed to ensuring that all aspects of the company's business are conducted with integrity, transparency, and oversight," said Stephen Sanger, lead independent director for the board, in a statement. "We will conduct this investigation with the diligence it deserves — and will follow the facts wherever they lead."
The Wells Fargo board could potentially take further action against Stumpf, Tolstedt, and other executives depending on what they find. The members have stated that Stumpf will recuse himself of all board-related deliberations related to the investigation.
"We will proceed with a sense of urgency but will take the time we need to conduct a thorough investigation," Sanger said. "We will then take all appropriate actions to reinforce the right culture and ensure that lessons are learned, misconduct is addressed, and systems and processes are improved so there can be no repetition of similar conduct."
Lawmakers remain unsatisfied
While the actions taken by the company may seem to be a start in the right direction, lawmakers say that there is much that should be done. They point out that while 5,300 employees were fired as a result of the scandal, company executives seem to have come out pretty well.
Earlier this month, CNN reported that after Tolstedt retires at the end of the year, she will be able to rake in $124 million in shares, options, and restricted stock. Sen. Elizabeth Warren has stated her disgust that low-level employees are the ones taking the blame for the scandal.
"You haven't resigned, you haven't returned a single nickel of personal earnings, you haven't fired a single senior executive," Warren said during the Senate hearing. "Your definition of accountable is to push the blame to your low level employees… it's gutless leadership."
"[Wells Fargo's] announcement is a step in the right direction but there are still dozens of unanswered questions," added Ohio Sen. Sherrod Brown in a statement.
---