---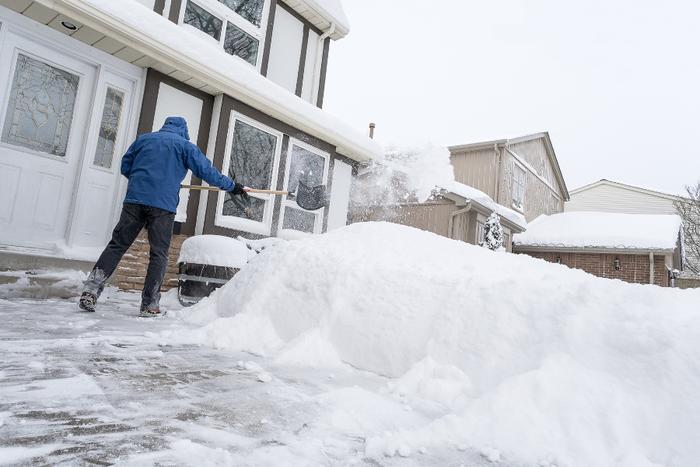 You can weather those winter storms by not being caught off guard and being prepared.
One of the biggest seasonal hazards of winter is that darn ice that can have you on your bottom in seconds flat, not to mention slipping on the steps and breaking an arm or cracking your head open.
Many big storms force power outages and you're stuck with not only freezing temps outside, but your home is lacking that warm cozy feeling as well. Losing power isn't just about the inside temperature. Your fridge can be knocked out and then you have food that is gone in no time. Having a generator is pretty important. If you have one already make sure it's in working order. If you don't have one, the big home improvement stores carry them.
Two of the main considerations when selecting a portable generator are the running watts, also known as Output Watts, and starting watts, or Maximum Output Watts.
Output Watts is the power needed to run a given device at normal functionality. Many devices need more power to start up (Maximum Output Watts) and then require less power (Rated Watts) to run continually. For example, a refrigerator requires 2200 starting wattage with a 700 running wattage, so you would need a generator with at least 2200 watt maximum output. Never run a generator inside enclosed spaces. Carbon monoxide can build up quickly and kill you and your family and pets.
Slip sliding away
It's embarrassing falling on your steps and nobody does it gracefully so make sure you have rock salt on hand to melt ice. If you have a pet use non-toxic brands, such as Safe Paws or Morton Safe-T-Pet. These products do not contain salt or chloride.
Shoveling can kill you
The task sends on average of more than 11,000 adults and children to the hospital every year.
A 17-year study was reported by the American Journal of Emergency Medicine in 2011 and it explained the most common health hazards associated with shoveling snow. Snow shoveling can sometimes lead to bad backs, broken bones, head injuries, and even deadly heart attacks.
So don't wait to shovel when you have 10 inches of snow or there is enough to ski downhill on. Or, better yet, hire someone to do it for you or get a snowblower.
Food and diapers
One thing you don't want to be without is diapers. There is no substitute -- think about it. Your child may grow from now until the end of winter. Stock up in a bigger size if need be. Food is pretty important as well because as soon as the weather report says arctic snow storm everyone is going to the grocery store at once so be prepared.
---