---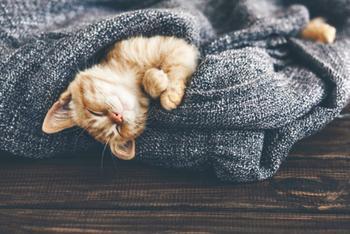 The annual increase in feline breeding is accompanied by what is known as "kitten season" -- a time in which animal shelters become flooded with homeless and newborn cats.
Several organizations seek to highlight the issue of cat-related overcrowding in shelters, including the American Humane Association with its Adopt-A-Cat Month and the ASPCA with its Adopt A Shelter Cat Month.
Both events take place in June, at the height of kitten season. Their mission is not only to ease overcrowding in shelters, but to find more loving homes for cats in need. Many local animal shelters even mark these events by offering special adoption deals and discounts.
But while giving a shelter cat a forever home can do a lot to help ease the burden of overcrowding in animal shelters, it isn't the only way to make a difference. Those who can't adopt a pet, whether because of a lack of room in the house or a non-pet friendly lifestyle, can help the cause as well.
Ways to get involved
Can't offer a permanent home to a shelter cat? No problem. You can still participate in Adopt a Shelter Cat month by doing any of the following:
Volunteer. Animal shelters are always in need of volunteers to help operations and adoptions run smoothly. And while the job will likely involve some feeding and cage cleaning, that's not all you'll be doing. Volunteers also provide needed attention to a shelter's feline (and canine) occupants.
Spread the word. Let others in your community know about this crucial time for shelters. Reach out to your local animal shelter or rescue group and see if there are any adoption event flyers that you can post around town. You can also go paperless by promoting Adopt-A-Cat / Adopt A Shelter Cat Month on Facebook or other social networks.
Foster. Fostering is another way to make a difference. If you've got time to devote and a home environment with all the qualities that a particular cat might need, you might be the perfect candidate to become a foster cat parent. Contact your local shelter or register to become a foster in Petfinder's volunteer database.
Donate. Whether you donate money or supplies, you'll be helping to make a difference in the life of an animal. Cat food, litter, litter boxes, towels, carriers, and toys are just a few of the items your local animal shelter would be grateful to receive.
---