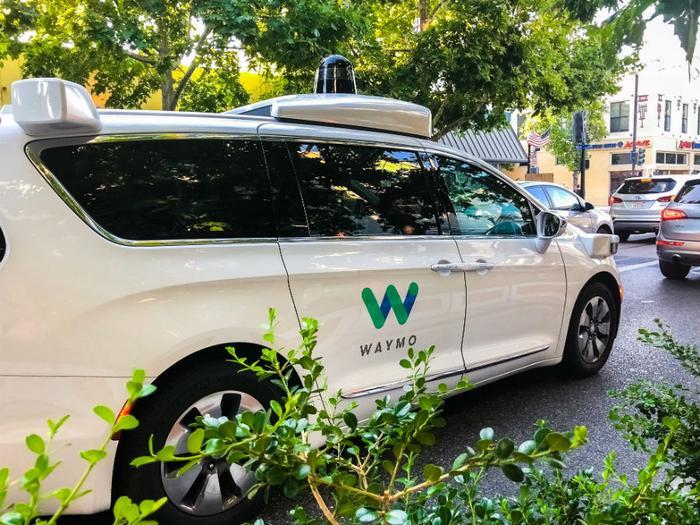 Driverless cars, eh?
Yep -- and they're on the rise. A new study says that 74 percent of Germans would use an autonomous car. And, across the pond in London, autonomous taxis made their driverless debut earlier this week.
Back home in the U.S., the big news is that Waymo -- the autonomous vehicle business under Alphabet (Google) -- sent out an email blast to its app users to alert them that "you might end up in a completely driver-less one." The keyword there is "might."
Trust us
"Completely driverless Waymo cars are on the way," headlined the email. "Over the years and with your support, we've been testing and refining our fully self-driving technology -- including without a trained driver up front."
If you're a Waymo-using consumer, here's the essence of what you can expect:
If a fully driverless car has been sent to pick you up, you'll see a notification saying so in your Waymo app.

You'll also be shown a "what to expect" button in the app just in case you're wondering about what nuances you might experience in your driverless trip.

For those who want to spread out in the backseat and read the paper, you'll have the entire car to yourself.

If at any point during the trip you think you need some assistance from a real, live person, there's a rider support agent available through the car's help button, as well as on the app.
The email wrapped things up by asking for some old-fashioned trust. 
"Rest assured, Waymo will be taking care of you; this is just the next step as we travel down the road toward a self-driving future," the company said.
The driverless game is changing
If you ask someone from Phoenix about the city's beta test of driverless vehicles, they might tell you that they've heard Waymo vehicles are inclined to stop suddenly, be a bit jerky, and navigate traffic conditions in a way that is a bad mix of being overly cautious and hazardous.
Now, granted, that was a beta test. Since then, Waymo has made an extra effort to not only chart the layout of a city's streets and byways, but go a step further in crafting 3-D maps of the types of infrastructure which cars have to maneuver around — crosswalks, curbs, fences, fire hydrants, potholes and the like.
"We're not looking for things like the name of a road," like a human would, Waymo spokeswoman Alexis Georgeson told the Los Angeles Times, giving some insight into Waymo's understanding that all cities are not laid out the same way.
That's a message not lost on the consumers following the driverless wave. 
"The fact that they know the time of the trip, traffic conditions, destinations and possible routes ahead of time is a very big deal that I hadn't fully considered," commented one observer on Reddit. "It means that they might be able to go into a full public Phoenix release significantly sooner."
Georgeson's boss -- Waymo CEO John Krafcik -- doubled down on the attention the company has paid to every single detail.
"During the past decade, we've put the Waymo Driver through what must be the world's longest and toughest ongoing driving test," Krafcik said at a recent auto show.
"We've driven autonomously more than 16 million kilometers on public roads, over 16 billion kilometers in simulation, and across more than 25 cities in the US. That's equivalent to hundreds of years of human driving experience — and that experience benefits every single Waymo driver in our fleet."
Watching and waiting
It's a pretty safe bet that Waymo's peers are following this move closely. Jaguar, Chrysler, Tesla, and Ford all have self-driving/driverless initiatives being tested, and it's a consumer plus if those companies can learn from Waymo's errors before a consumer has to pay for one of those mistakes.
Those companies have to be taking a long, hard look in the rear-view mirror. Both Uber and Tesla have had bad experiences with driverless technology. Uber has gone as far as shutting down its driverless program in Phoenix, and Tesla has had to scale down the promotion of its Autopilot feature after some related fatal car accidents.