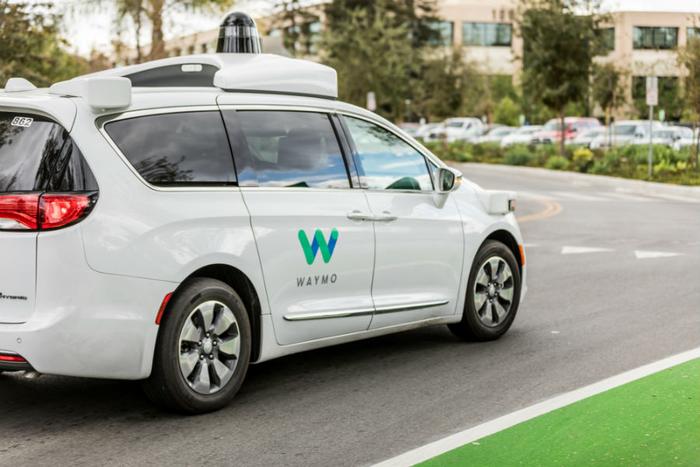 Waymo, Alphabet's self-driving car venture, announced on Thursday that it has launched an app on the App Store. The rollout of the iOS app comes exactly a year after the ride-hailing firm launched a public self-driving ride service in Phoenix, Arizona. 
iPhone users in Phoenix can use the Waymo app to be added to a waitlist to use the service. Once accepted, users can request a ride in one of the company's self-driving Chrysler Pacifica minivans. 
Phoenix residents pulled off the waitlist will be the first to be invited to join Waymo's early rider program. The company uses its early rider program to test new features, such as the ability to let riders play their own music through the car's speakers. Participants in the early rider program are asked to sign a nondisclosure agreement. 
Users can eventually move on to the public arm of Waymo One, said Waymo chief product officer Dan Chu. 
"In the last year, we've accomplished a lot and learned even more," Chu wrote in a blog post. "Through customer surveys and feedback, we hear a lot about what our riders expect from self-driving technology and how we can continue to improve our service to meet those expectations."
1,500 active riders 
In its announcement of the iOS app, Waymo shared some of its latest metrics. The self-driving car service said it has amassed roughly 1,500 monthly active riders, up from just a few hundred when the service was still in its infancy. Waymo said it has provided more than 100,000 rides since the early rider program launched in 2017. 
An app for Android devices was launched back in April. The company said it's made several improvements to the app over the past few months, including capabilities intended to simplify the ordering process and a feature that lets users honk a car's horn from the app.  
Going forward, Waymo says it will continue to focus mainly on expanding access to its driverless ride service. The company plans to eventually deploy its driverless vehicles in places other than Phoenix. 
"Over time, we hope to make Waymo One available to even more members of the public as we add vehicles and drive in more places," Chu said. "Self-driving technology is new to many, so we're proceeding carefully with the comfort and convenience of our riders in mind. At first, Waymo-trained drivers will supervise our Waymo One vehicles."