---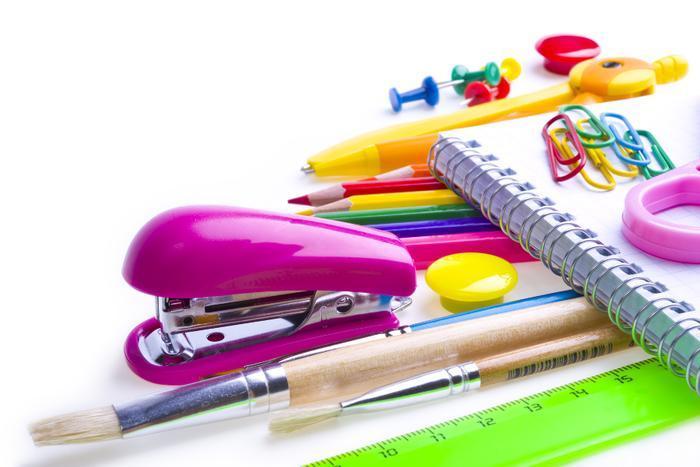 It's mid-July, which means that American parents of school-aged offspring have seven weeks at most before they must send their children back to school, equipped with a formidable array of school supplies.
Earlier this week, when my colleague James Limbach discussed the start of this year's official back-to-school shopping season, he noted some ominous (from a parental-finances perspective) statistics: back-to-school season is second only to the Christmas/December holiday shopping season, in terms of how much attention it gets from retailers, brand marketers, and other people whose livelihoods involve convincing consumers like you to hand over as much of your money as possible to them.
Also: this year, the average supplies-list parents are expected to provide for each student is longer than ever before, covering not just traditional students' tools like notebooks, paper and pencils or pens, but supplies for the actual classroom, including things like tissue boxes, disposable hand wipes and resealable plastic bags.
Spending season
As a savvy spender you already know to be extra cautious during any time of year retailers and marketers call an important "season." And with the back-to-school season kicking in, you also know that the best time to actually start buying school supplies was "several months ago" or, better yet, "in dribs and drabs all throughout the year, whenever you find certain supplies at a good price."
The one advantage parents have is this: most school-supply purchases are non-perishable and completely predictable, and so (depending on how much storage space you have, how often you're likely to move and other variables) you can stockpile certain school supplies months or even years in advance, whenever you find a particularly good price.
Notebooks (the paper kind, not laptop computers), loose-leaf paper, three-ring binders, pencils and pens … today's fourth- and fifth-graders will still need such things in high school, and even in college. Today's toddlers will eventually need such things too, but first they'll need crayons and primary writing paper for a couple of years in elementary school.
Stock up
One trick you might try (it might be too late to do much before the start of this school year, but remember the years to come): stop thinking of school-supply shopping as a seasonal task, one of the first signs of approaching autumn. Instead, set aside a supply shelf, cabinet, box, or some other storage area in your home – the exact size varies based not only on how much space you have available, but how many children you have, and how many more years of school they must finish.
Of course your immediate short-term goal for now is getting your kids supplied for school in a few weeks. But in addition, you also want to keep an eye out for good prices on any sort of school supplies they're likely to need, because you're also working toward the long-term goal of maintaining a well-stocked supply shelf. The ultimate goal is that when your kids need anything for school, you can find it in your own closet rather than spend money at the store that day.
You probably recognize this idea as basically a school-specific variant of the well-known frugal tip "Buy things you'll need before you need them, when you find them at a good price, rather than wait until you actually do need it and are forced by necessity to pay whatever price you can find."
I maintain a well-stocked school-supply cabinet at home because, due to the post-graduate career path I've followed, I never stopped needed many of these things for myself; it's just that at some point, I stopped calling them "school supplies" and started calling them "office supplies" or "work stuff" instead.
I haven't had to buy loose-leaf paper in years, not since the day I visited a "surplus" store one January, and they were selling 200-sheet packets of loose-leaf paper at three for a dollar. (Of course, whenever I'd visit that particular store anytime in August or early September – back to school season, when people are far more likely to immediately need loose-leaf paper – all they had were 100-count packets which actually cost more, per sheet of paper, than the price you'd expect at a regular non-surplus retail store.)
Granted, I didn't actually "need" any loose-leaf paper when I bought all those three-for-a-dollar packs – I still had a couple unopened packs in my supply cabinet – but I predicted (accurately, as it turned out) that when I did go through all the paper I had and actually needed more loose-leaf paper, I wasn't likely to find any as cheaply as 600 sheets for a dollar.
Off-season bargains
If you're regularly in the habit of browsing surplus, overstock, job lot or other low-price bargain stores with unpredictable inventories, chances are you will, at some point, find incredible deals on the sorts of things that appear on mandatory school-supply lists every September.
But you're not likely to find these incredible deals in September, or August, or any time comprising "back to school season." That's why, in the long run, your best chance to save money on such things is to shop to keep your supply cabinet well-stocked at a good price, rather than shop to get your kids supplied just in time for them to start school this September.
---