---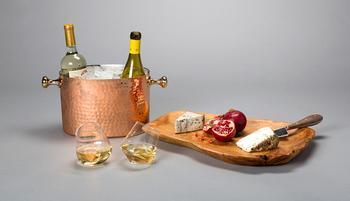 Most of us like giving presents to people, especially during this time of year when you're pretty much expected to pass along a gift to a friend, co-worker or family member. But sometimes finding just the right gift can be nothing but a big colossal, temple-piercing headache.
It's safe to say that no one wants to play Scrooge during Christmas, but sometimes the sheer craziness of the holidays is enough to take away some of that good feeling you get when you hunt down, buy and handover the perfect gift.
But what is the perfect gift? I mean, does such a thing really exist?
Some would say the perfect gift has a lot to do with timing. Meaning, if you buy something for someone at a time when they don't have it, they want it, or they planned to get it—it's the perfect gift.
But others may say the perfect gift is about buying something that seamlessly matches a person's taste and is also hard to find.
Most challenging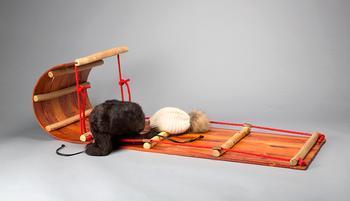 Buying those hard to find gifts is arguably one of the most challenging aspects of holiday shopping, and finding items that are unique to a person's specific style can be even a bigger challenge.
That's where the gift-giving site Wantful comes in, as the bicoastal company has created a service that allows consumers to create an entire catalog of items that are tailored around someone's taste and style. Then the person chooses out of the 12 items in the catalog that were either selected by the site or by you.
And once you create the printed catalog, it's mailed to the person's address and they decide which items to buy or reject.
Wantful says creating a catalog for someone based on a series of questions is a better way to go than giving someone a gift card or guessing what they may or may not use.
The way it works is the gift-giver logs onto the Wantful website and fills in some needed information that will determine what gifts are chosen for the catalog. You also design what the cover of the booklet will look like, address it, and select from a variety of artsy backgrounds.
Each gift on the site is made by artists and designers that work with Wantful and you can pick from an array of product categories like jewelry, accessories, art and décor, beauty items and outdoor products. You can even choose to donate to one of the charities on the site in the person's name.
Personalized catalog
After you answer a few questions about a person's interests and style, Wantful selects 12 gifts that will appear in the personalized catalog. You can also browse the different items yourself and choose the 12 items on your own if you wish.
Each catalog always contains a dozen gifts that a person can choose from, and you determine how much the spending limit is by prepaying an amount that's between $30 and $500.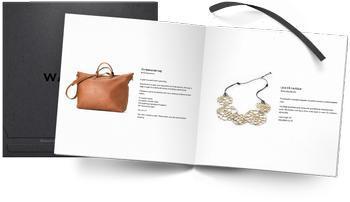 From there, the company says it prints up the shopping booklet in one to three business days and mails it to the person's house.
Wantful also says after the custom catalog is printed, it's wrapped in Japanese rice paper and delivered in a sleek black envelope, so it won't look like the flimsy wrinkled shopping catalog that you get as junk mail every day. You can also choose to have the booklet emailed if you prefer to give an electronic version.
Wantful isn't really a brand new company, as it launched about a year ago and released an iPad app just a couple of months back. The app also shows the uniquely designed products in bright photos like the catalog, but includes more in-depth product descriptions as well as short stories behind the designs.
Both the site and the app are a great way to give a gift this holiday season, because it gives the person receiving the gift a chance to select from a wide range of choices, as opposed to getting a gift that you hope they like or already have.
Also, there's something nice about someone receiving a personal catalog with their name on it that has a bunch of items they would probably buy themselves.
A holiday gift like a personal shopping catalog says two things: One, that you took time and thought to pinpoint the perfect gift selections and two: You know and paid attention to that person's particular style.
You can also use Wantful to buy something for yourself if you see an item that strikes your fancy.
Wantful says it has a desire to change the entire way gifts have been traditionally given, and wants to remove the guess work that's involved in selecting the perfect holiday or birthday gift.
"We've partnered with hundreds of the best designers and producers in the world to bring you products you won't find anywhere else, says the company. "We've built some smart and playful tools to help you discover them, and we've created a head-turning gift experience that adds style surprise, personalization and choice to the gift you're giving."
---