---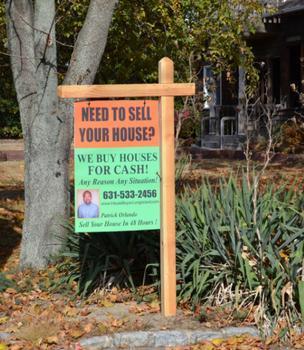 Drive through almost any neighborhood in America and you may see a cardboard sign, tacked to a utility pole, promising to buy your home fast, for cash. For many financially-strapped homeowners, it sounds tempting.
It's especially tempting if the home needs some repairs and updating. The seller might not have the time or money to get the house in shape to sell at its market price. Wouldn't it be better to take less and get it over with quickly?
Maybe, but chances are the company that put up the sign, offering to buy your home sight-unseen, expects to offer considerably less than the seller expects to receive.
Scott Simpson operates a "quick sale" real estate company in the UK called Flying Homes. As an experiment, he says he had someone call other quick sale companies, pretending to be a seller interested in unloading their home. They described it as being in poor condition, needing major renovations, and located in one of the UK's worst real estate markets.
Always the same answer
When asked if the company still wanted to buy the house, Simpson said the answer was always "you bet!" But why? Because, says Simpson, the buyer has no intention of offering anything close to the home's real value.
"The UK 'quick house sale' market tends to try and secure deals at 70% to 80% below the market value," Simpson said. "I would suspect that this is similar for the U.S. market too."
If an owner believes their house is undesirable and therefore worth very little, Simpson says it provides an opening for many unscrupulous property buyers. They're hoping the prospective seller has no idea of their property's value and will jump and the chance to unload it. In attempting to close the deal the buyer usually makes an offer and demands an immediate answer, warning it is "now or never." That's almost always a sign of a bad deal.
Simpson says the market in the UK is more problematic and prone to delays than in the U.S.
"A buyer can pull out at any time without financial penalty prior to exchange of contracts," he said.
Guaranteed profit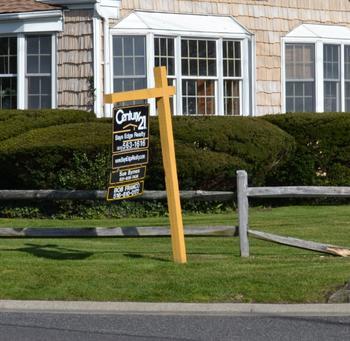 Quick house sale companies will often offer to buy every house because they know that they can resell it, even using a real estate agent, and make a quick cash profit. No matter the condition or location of the property, it has some market value and most quick sale companies make sure they buy it well below that level.
While the UK and U.S. real estate markets have many differences, Simpson says there are also similarities. He advises would-be sellers to slow down.
"If the customer has no desperate need to sell or can wait up to six months, then companies like ours could help to broker the property and find a buyer prepared to pay more or less the market rate," Simpson said. "In these instances the customer can receive 90% to 95% of market value."
What to do
First, the seller must know what the property is worth. While there are many variables involved in arriving at that number, start with a a real estate website like Zillow.com, which provides a "Zestimate" for nearly every residential property in America, based on comp sales and tax rates. These estimates don't take into consideration the condition of the property but can provide a starting point at arriving at a value.
Get estimates for making repairs and upgrades and deduct this cost from the value of the property. If you can document these estimates, provide it as part of the sales literature used to market the house.
Finally, invest a little sweat equity in making the property more appealing. Outside, trim vegetation, gather up yard debris and take other simple steps to enhance curb appeal.
Inside, thoroughly clear floors and woodwork and consider a fresh coat of paint where needed. You can still price your property to sell quickly without giving it away.
---