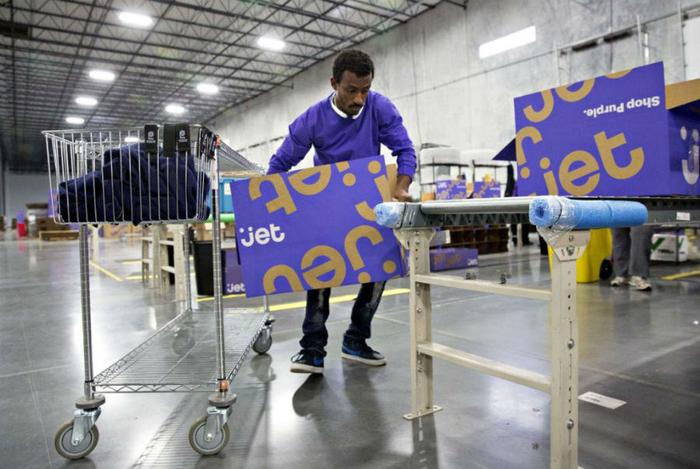 Walmart, the country's largest retailer, has long been absent from the country's largest city -- New York. The chain has not had one retail location within the city's five boroughs -- but that's all about to change.
The company's Jet.com subsidiary will be moving to the Bronx this fall in an effort to start a grocery delivery service in the Big Apple.
"We are excited to bring hundreds of jobs to the greater New York City area through the opening of the Bronx Fulfillment Center this fall," said Simon Belsham, president of Jet.com. "This is a key building block that is part of Jet's strategy focused on urban centers."
With Jet.com's headquarters across the river in Hoboken, New Jersey, this is the company's first big push to make its way to New York City. Set to open later this year, the facility will be designed to deliver fresh grocery items, consumable goods (toothpaste and paper towels), and other merchandise to NYC addresses with either same-day or next-day delivery. The warehouse will only stock items sold on Jet.
Walmart's quest to compete
Walmart acquired Jet.com in 2016 for $3.3 billion, as the company sought to reach a younger demographic. Since then, the retailer has expanded its digital sales, with an increase of 33 percent last quarter. Additionally, the company has been able to reach shoppers in bigger, wealthier cities -- a market base where Walmart has statistically had a limited presence.
To deliver groceries under this new service, Jet will use Parcel -- a last-mile delivery service that Walmart bought last year at an undisclosed price. Acquiring Parcel allowed Walmart to compete with the likes of Amazon Prime and Amazon Prime Now -- services that offer customers same-day and next-day delivery.
According to Business Insider, the "last-mile" problem -- figuring out how to deliver packages to consumers who don't have porches or doormen -- is a recurring problem for online retailers -- particularly in cities like New York. However, Parcel's vans read: "No doorman? No Problem," a sign to consumers that it's addressing this issue.
As grocery shopping continues to evolve, consumers are flocking to services that deliver their orders straight to their doors -- and all but instantaneously. This move by Walmart signals an effort to compete in this new arena with fellow retailers like Amazon (which acquired Whole Foods and offers competitive delivery options), InstaCart, MaxDelivery, FreshDirect, and most recently, Target.