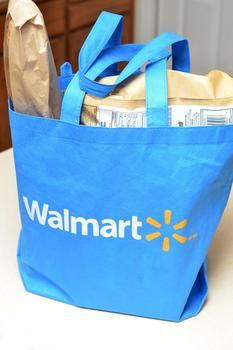 Do you remember the grocery delivery service Walmart promised over the summer? Well, that service -- called InHome Delivery -- is officially here.
Yes, the online grocery game is flooded with 12 other players vying for the store-to-refrigerator market. But the biggest of the big-box stores probably figures it can withstand the competitive heat and convert its physical in-store customers to online customers because it owns a large section of the overall grocery segment.
"We're obsessed with simplifying grocery shopping and finding ways to make our customers' lives easier," wrote Bart Stein, Walmart's SVP of Membership and InHome. "That's why InHome goes the extra step so that our customers can live their lives without worrying about making it to the store or being home to accept a delivery."
A Walmart spokesperson told ConsumerAffairs that there's some additional perks, including no additional delivery fees, service charges or tips, and free Walmart.com returns.
Walmart's service will start in Pittsburgh, Kansas City (Missouri and Kansas), and Vero Beach -- three markets with a million customers already in place to try and leverage. All consumers who sign up for the service get the first month for free.
How it works
The nuance that Walmart is betting on as the chief difference between it and other grocery delivery services is that its delivery person will put the groceries into the consumer's kitchen or garage fridge.
While that seems simple enough, there are some hurdles that consumers need to take into account.
The biggest of those is buying a "smart lock" ($49.95) and having it installed. Walmart offers free installation, but just like waiting for the cable guy, someone is going to have to be at home and waiting for someone to come and do the installation. If a customer cancels the service, the smart lock is theirs to keep.
The second consideration is the price. Once the lock is in place, consumers will have to sign up for the delivery service at $19.95 a month, not to mention a minimum of $30 of goods per delivery. If a consumer wants to pause or cancel the service at any time -- say during a vacation -- they have the option of doing that at no cost. However, if a subscriber forgets to cancel or pause the service within a month, they will still be charged the monthly $19.95 fee.
Easing security concerns
Giving a perfect stranger access to someone's house takes trust. That concern isn't lost on Walmart, which says it wants to make the end-user as comfortable as possible.
As a precaution, the company has built these safeguards into the process:
Delivery associates will have on a wearable camera allowing customers to control access to their homes, as well as the ability to live stream the deliveries on a phone or desktop computer. If the delivery person's camera is not functioning, the consumer's door will not open.

The smart lock will only let an associate open a subscriber's house or garage door once -- only within the delivery time window and only with the subscriber's specific order.

Delivery associates have to meet some standards by undergoing multiple types of background checks. They also must have a minimum of one year of experience as a  full time, in-store Walmart employee.