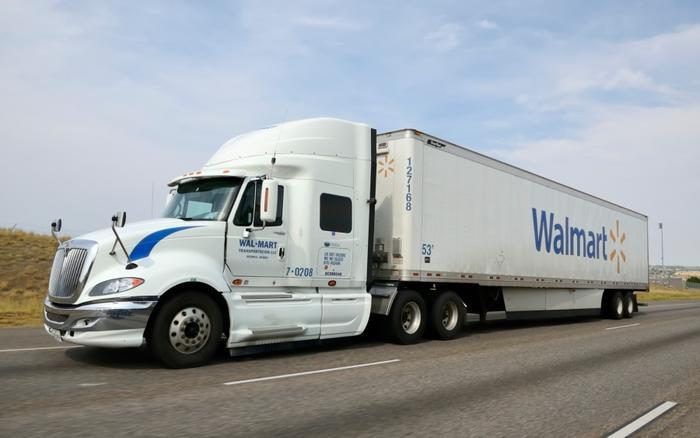 On average, truck drivers take home a nice check. In 2017, truck drivers in the United States earned 56 cents a mile, $21.97 an hour, or $44,500 a year, significantly better than recent minimum wage initiatives.
If a truck driver is lucky enough to be one of the 8,000 that carry loads for Walmart, they're taking home a wow-worthy $86,000 in his or her first year. Now, Walmart's truckers' deal is about to get a lot sweeter.
On Wednesday, Walmart announced that its fleet drivers will get a penny more a mile plus an extra $1 each time they drop off their trailer at a designated location. Drivers in the Northeast are on tap to get a 5 percent raise on both mileage and other trucking activities.
If you're scoffing at that penny raise, don't; that's because it adds up to about an extra $1,500 a year. And, while you're at it, tack on perks of 21 days of paid time off and quarterly bonuses.
Walmart can afford this
One thing you have to keep in mind is that Walmart is upping its investment in self-driving trucks which, if successful, could save the company millions. CleanTechnica reported that fuel savings for Walmart's self-driving trucks could be as much as $200,000 for every million miles traveled.
With the company enjoying its biggest sales results in a decade, Walmart is putting the hammer down to fill hundreds of job openings fueled by that growth.
"These hiring events are both improving the skill level of our candidates and enriching their onboarding experience," said Lori Furnell, Walmart's director of driver talent acquisition. "We're leaning heavily on the expertise of our Walmart road team and our certified driver trainers to grow our skilled fleet of professional drivers."
Fancy yourself a truck driver?
To qualify for Walmart's onboarding, drivers have to have 30 months of experience in the past three years under their belt and a clean safety record to boot.
"Walmart's fleet has a reputation for high standards and that can be intimidating," Faller said. "But you see people getting emotional after the process they go through here, and I think that's largely because they can sense that we're here in it with them and we're committed to their success. I don't think you get that elsewhere in the industry."