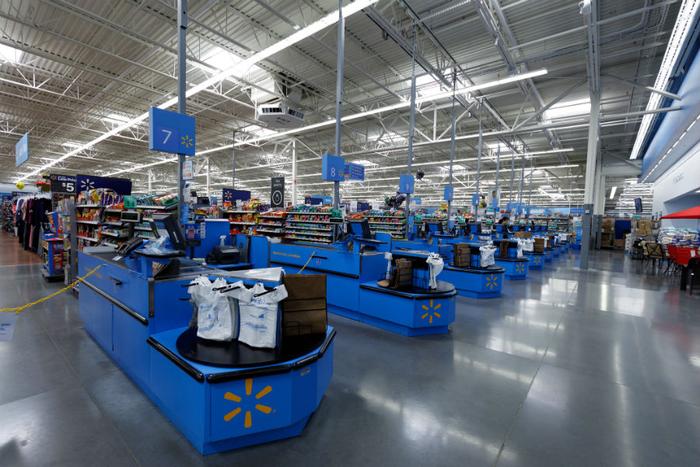 Walmart has given another hint that it plans to increase its competition with Amazon in e-commerce and in technology in general. The world's largest brick and mortar retailer says it will staff up in 2019 to improve its technology, not just online but also in stores.
In an interview with Bloomberg Television, Walmart Chief Technology Officer Jeremy King revealed that the company plans to hire 2,000 people to join the retail technology group. That group currently employs about 7,500 people.
The new employees will work in areas such as design, software engineering, and data collection and analysis. They'll join about 1,700 new Walmart employees in that group who joined the company last year.
The increase in hiring in this area shouldn't come as a surprise since Walmart spent much of 2018 deploying robots in its stores to help with maintenance and inventory control. Someone, after all, has to oversee the electronic workers.
Other new employees will work on developing algorithms that will help employees fill online orders faster by outlining the best routes to take when moving through the aisles. Walmart offers curbside grocery pickup in more than 2,000 stores in the U.S. and hopes to add it to as many as 1,000 more this year.
Competing with Amazon for talent
The new employees will work in high-tech centers both in the U.S. and Asia as Walmart appears to be ready to compete with Amazon to sign the best technology talent.
The new technology group employees won't be working on a system to replace cashiers, such as Amazon's cashierless stores. King says that is not currently practical for Walmart.
"We're talking about a huge scale," King told Bloomberg. "Those sort of 7-Eleven-size stores [that Amazon operates] are one thing but when you talk about a Walmart Supercenter, it's going to be some time before we can go completely cashierless."
But King did say that the company is continuing to work on expanding the number of ways customers can check out without standing in line.