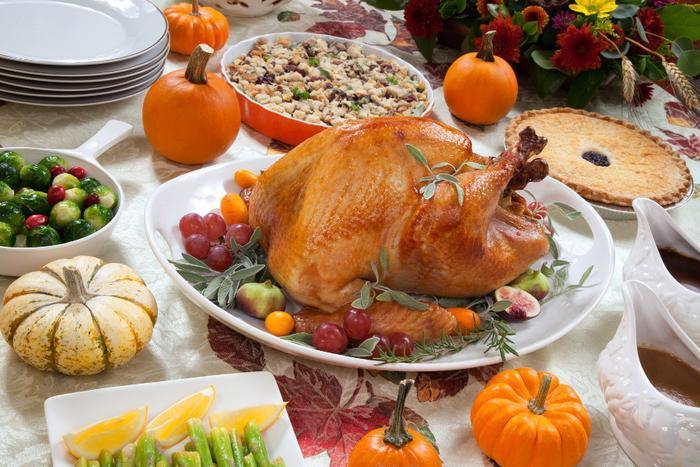 Did someone say free Thanksgiving meal? Yep... Walmart. The mega retailer has looped in Butterball, Campbell's, Coca-Cola, and others to offer consumers everything they need for a Thanksgiving dinner -- from cranberry sauce to the turkey itself -- compliments of the brands involved. 
Walmart locations nationwide are participating in this event through Thanksgiving Day, November 26.
The freebies
In total, there are nine gratis food products in the promotion, though some include caveats about specific sizes and other factors. Here are the details:
Butterball Turkey Breast Roast: Offer valid for 100 percent cash-back on all flavors of the 3 lb Butterball turkey roast, which includes a gravy packet. Also valid for $9.98 cash-back on Butterball whole turkeys.

McCormick Gravy: Offer valid for all 0.87 oz. McCormick gravy packet flavors.

Great Value Stuffing Mix: Offer valid for all 6 oz. Great Value Stuffing Mix flavors.

Idahoan Mashed Potatoes: Offer valid for all 8 oz. Idahoan Mashed Potato flavors.

Campbell's Condensed Cream of Mushroom Soup: Offer valid on 10.5 oz. can only.

Great Value Cranberry Sauce: Offer valid for all canned 14 oz. cranberry sauce varieties.

Great Value Green Beans: Offer valid on Great Value Fine Green Beans, 12 oz. frozen bag.

French's Crispy Fried Onions: Offer valid on French's Original Crispy Fried Onions, 2.8 oz..

Coca-Cola: Offer valid on 2-liter bottles of Coca-Cola: Cherry Zero Sugar, Vanilla, Caffeine Free, Caffeine Free Zero Sugar, Original Taste, and Zero Sugar.
A 12 oz. bag of green beans or a 3 pound turkey may not go very far for some families. To get enough for everyone, it might take multiple people using separate Walmart accounts connected to Ibotta to stretch "free" into a family-size windfall.
"Free" takes some doing 
In all fairness, while Walmart and its partners are throwing around the word "free," it's a slight misnomer because the promotion is really a "cash-back" one. 
In reality, a consumer can't just walk into a Walmart, load up their cart with the foods that are part of the promotion, and then check out without having to scan their credit card. To take advantage of the deal, a consumer has to complete two key steps:
Once that's done, the consumer simply logs in to their Walmart account. They'll immediately find all nine free Thanksgiving items in their browser extension (and via the Ibotta phone app within an hour) in the form of cash-back for the entire purchase (approx. $20.27).
Consumers are likely to see more "thanks" from major retailers and brands in the run-up to Thanksgiving. On Monday, Zoom announced that it was lifting its 40-minute time limit on the free version of its software so families could enjoy a longer virtual Thanksgiving together. BJ's Wholesale Club also announced that it's handing out free turkeys in advance of Thanksgiving.